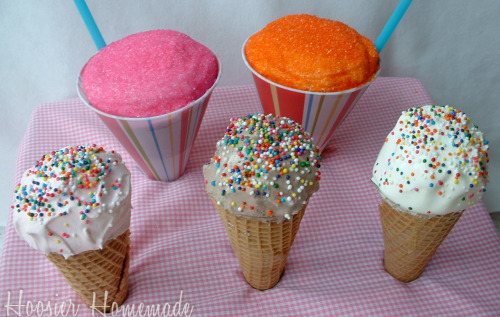 My Favorites ~ Your Favorites ~ Top Referrers
I apologize this is so late. The 4th of July holiday really put me behind schedule. Can you believe our summer is half over already? Crazy, huh?
First, I have to give a HUGE Thank You, to Brianna, my designer, she not only added the new design to Hoosier Homemade the past couple months, but has also designed my new blog, Its A Blog Party! If you haven't seen the fun and colorful design, I'd love for you to pop over and say Hi!
As always, a very special Thank You to all my readers, friends and family who have made Hoosier Homemade a success!
If you aren't a subscriber, I'd love to have you! You can subscribe thru a reader or email. You can also find me on Twitter, Facebook and in my Blog Frog Community!
AND, some more GREAT news! I have a newsletter coming out soon!! Please sign up…the box is in the sidebar, right under the BlogFrog Community. You won't want to miss out! I have some fun printables coming, and more goodies planned, exclusively for Newsletter Subscribers!
So, onto the favorites…
First, my top three favorite posts…
My Favorite Cupcake
I just loved the Snow Cone and Ice Cream Cone Cupcakes! They were so easy! And just perfect for Summer time.
My Favorite Food Post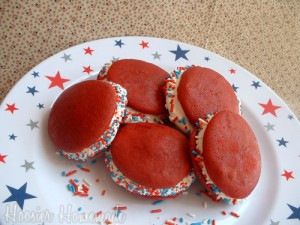 I had just a blast creating and sharing my Food for the Fourth series! I hope you enjoyed it too!
My Favorite Decorating Post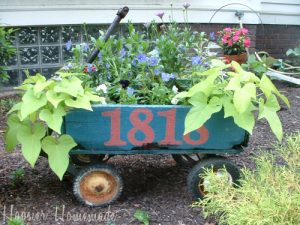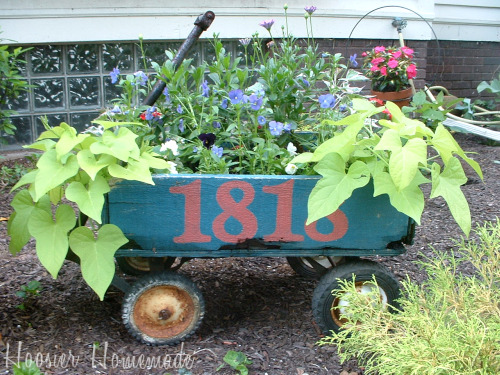 Even though my garden is not really, decorating, my favorite project was my Antique Wagon. I've had it sitting in pieces for a couple years, and was so excited to get it done and share it. See, there is a method to my madness with this blog…I get projects done! Now…maybe I need to do a post on the basement 🙂
Your Favorites…
Top Referrers…
Note: I did not include the top posts that were Giveaways, because they are closed.
I did lots of guest posting all over BlogLand this month, a very special Thank You to those bloggers who allowed me to share my passion!
~Beach Cupcakes at Mrs. Moneysaver
~Coconut Cupcakes at Penny Pinchin' Mom
~Sunflower Cupcakes at The Thrifty Mama
~Cupcake Tips at Cooking During Stolen Moments
~Pink Princess Cupcakes at Moms Need to Cook
~Red Velvet Whoopie Pies at Alice
~4th of July Trifle Dessert at Common Sense with Money
~Birthday Cupcakes at Passion for Savings
Please take a minute and visit some or all of these great supporters. They are all fabulous, and I really appreciate them giving me their support!