Last month I shared with you that Nick was starting his Invisalign Braces treatment. Well I'm happy to report, that he has had his braces for several weeks now, and it's going great.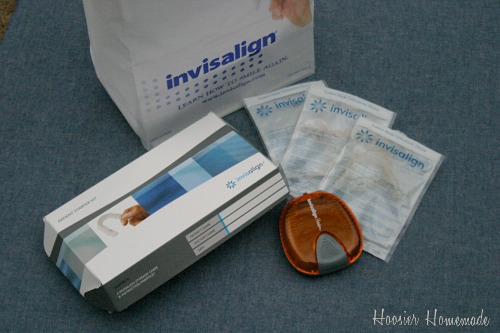 A few highlights…
Your teeth are very easy to care for while you have the Invisalign Braces. Just take them out, brush your teeth, brush the braces and put them back in.
Playing sports is not a problem, we bought Nick a new mouth guard after getting his braces, and he just formed it to fit over the braces.
The Invisalign Braces are not noticeable. They put buttons on Nick's front teeth for the braces to hold on to, which you can see if he has the braces out, but other than that, you can't even tell.
There are trays that Nick changes every two weeks.
Pain – Nick has VERY little pain, actually he describes it as pressure not pain. For a couple days, each time he changes to a new set of trays, he can feel pressure.
We aren't seeing a noticeable change in his teeth yet, but I have heard that the older you are the longer it takes to move your teeth. Even though Nick is only 17, he is a little older than most kids wearing braces.
If you are in need of Dental Insurance, check out the information I shared on Moms on Braces, you won't believe the money you can save with the Discount Dental Plan.
Disclosure: I'm part of the Invisalign Mom Advisory Board and my son received free Invisalign treatment. As always, the opinions and experiences are my own.