Print
Ice Cream Sandwiches Cake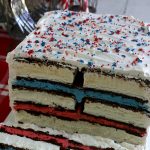 This fun red, white and blue ice cream sandwiches cake is super easy and really fun for your 4th of July Celebrations! Just 4 simple ingredients and you have a show-stopping dessert!
Author:
Prep Time:

20 minutes

Total Time:

20 minutes

Yield:

12

Category:

Dessert
Ingredients
2 boxes Klondike Ice Cream Sandwiches
1 container (7 oz) marshmallow creme fluff
2 containers (8 oz each) whipped topping, thawed
1 small box instant vanilla pudding – use dry
Red and Blue Paste Food Coloring – or other color
Sprinkles, optional
Instructions
In a large mixing bowl, combine marshmallow fluff and pudding – mixture will be thick
Note – to easily remove marshmallow from jar, place in microwave for 10-20 seconds
Fold in 1 container of whipped topping and mix until smooth
Divide mixture into 2 bowls and add coloring
Line a cookie sheet with foil
Place 4 ice cream sandwiches
Frost with first color of marshmallow mixture
Top with 4 more ice cream sandwiches, gently press into frosting
Frost with second color of marshmallow mixture
Top with 4 more ice cream sandwiches
Place cake into freezer for about 20 minutes
Frost with whipped topping
Place back into freezer and freeze at least 4 hours – up to over night
Remove from freezer and add sprinkles right before serving
Store leftovers in freezer
By continuing to use the site, you agree to the use of cookies. more information
The cookie settings on this website are set to "allow cookies" to give you the best browsing experience possible. If you continue to use this website without changing your cookie settings or you click "Accept" below then you are consenting to this.