Print
Chocolate Santa Pretzel Rods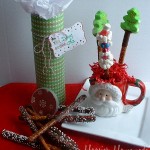 Fun and festive chocolate-dipped Santa Claus pretzel rods from HoosierHomemade.com.
Ingredients
Chocolate Dipped Pretzel Rods
Chocolate Almond Bark (in the baking aisle) or other melting chocolate
Assorted Sprinkles
Christmas Tree Pretzel Rods
Marshmallow Christmas Trees (like Peeps that you buy at Easter, we found them at Walgreens)
Chocolate Almond Bark or other melting chocolate
Santa Pretzel Rods
White Almond Bark or other white melting chocolate
Mini Marshmallows
Eyes – Mini M&M's
Mouth – Large pink heart sprinkle
Nose – Red candy coated sunflower seed or other small candy
Face – Pink sugar
Hat – Red fruit slice
Instructions
Chocolate Dipped Pretzel Rods
Melt chocolate in the microwave, usually about 2 minutes. It's best if it's not all the way melted, then just stir it until the rest of the chocolate melts. I usually use a tall container making it easier to dip the pretzels.
Dip the pretzel, tap off excess and add sprinkles. Place on waxed paper and put in fridge until set.
Christmas Tree Pretzel Rods
Melt chocolate, dip the pretzel, tap off the excess and add Christmas Tree to the top, pushing it onto the pretzel rod.
Santa Pretzel Rods
Melt white chocolate and dip pretzel, immediately sprinkle with pink sugar. Let dry.
Cut a fruit slice in half and place one half on top for Santa's hat. You can either dip the end in chocolate or just carefully push the fruit slice onto the pretzel rod.
Add a mini marshmallow on the tip of the hat, then cut marshmallows in half and place around the bottom of the hat.
Using the melted white chocolate, attach the eyes and nose.
Then add some cut marshmallows for the mustache.
Add a heart sprinkle for the mouth, then add more cut marshmallows for the beard.
By continuing to use the site, you agree to the use of cookies. more information
The cookie settings on this website are set to "allow cookies" to give you the best browsing experience possible. If you continue to use this website without changing your cookie settings or you click "Accept" below then you are consenting to this.