How safe is your home? Do you have a family escape plan? How about fire extinguishers in your kitchen or near the grill? I recently took a Home Safety Challenge sponsored by Kidde, and discovered that our home isn't quite as safe as I thought, scoring only 55%.
Even though we have a Carbon Monoxide Alarm in our home, it wasn't until we had a furnace inspection last Fall, that we discovered there was a piece broken in the furnace that was slowly leaking Carbon Monoxide. I had been having lots of headaches, but figured it was stress or a change in the weather. Luckily, we caught the problem and had a new furnace installed.
To bring awareness to Home Safety, Kidde is offering an Intelligent Smoke CO Alarm to a lucky reader.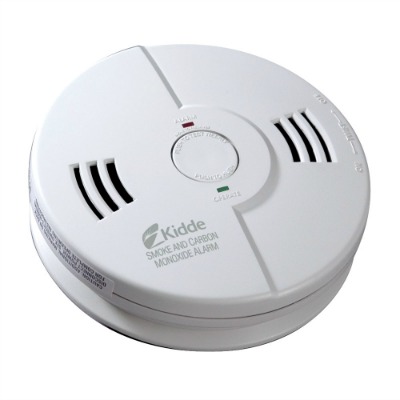 Kidde's Intelligent Alarm uses breakthrough technology to offer a faster response to real fires, including smoldering and fast-flaming, as well as offer warning of carbon monoxide (CO) and dramatically reduce the chance of nuisance alarms. In addition, the Intelligent Alarm contains a voice warning that clearly states the present danger – smoke or carbon monoxide – and announces "Fire! Fire!" or "Warning! Carbon Monoxide!"
So…how safe is your home? Please take a few minutes to take the free Home Safety Audit and find out just how safe your home is!
GIVEAWAY CLOSED –  Check the Giveaway Winners Page
GIVEAWAY GUIDELINES:
One lucky Hoosier Homemade winner will receive a Kidde Intelligent Smoke CO Alarm, valued at $40
Entries only accepted on this page. Facebook and Twitter entries do not count.
Giveaway will remain open until August 3, 2012 at  10 p.m. CST. Winner will be chosen at random, notified by email and will have 48 hours to respond.
REQUIRED ENTRY:
Which area of your home needs attention to safety?
OPTIONAL ENTRIES: Please leave a separate comment for each entry
Disclosure: This is a compensated post, provided by Kidde. As always, the opinions are my own.