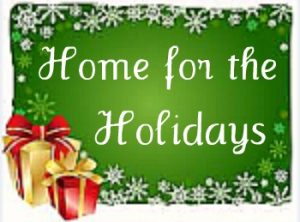 As we spend the coming days amid the hustle and bustle of the holiday season we realize the importance of sharing time and yes, gifts with family and friends old and new. It's fun to share all of our creativity and know that it is appreciated. Here at It's a Blog Party our goal is to do that each and every day.
So we're kicking off the season with the "Home for the Holidays" Party!
So add all the ideas you have for sharing with your families and friends. Maybe it's the family favorite cookie, or that decorating idea that just screams Merry Christmas. Or it is the new tradition you are starting with your family. We can't wait to see all the wonderful additions to the Party.
So lets get the party started;
Continuing until 7:00 p.m. CST, December 15th you can link up all your Holiday ideas to "Home for the Holidays" , whether it be Foods, Crafts, Decorating, Party ideas. Almost anything goes.  
Then from 7:01 p.m. on December 15th until 7:01 p.m. CST December 18th everyone may visit the "Home for the Holidays" Party and vote for up to 10 of their favorite posts that are shared here. So be sure to mention it when voting starts.
Then on December 19th the Top 10 submissions as voted by the readers will be featured on It's a Blog Party and our sister site Hoosier Homemade.
Don't forget about adding your ideas to the weekly party pages, like Show-Me-How (Crafts & Decorating), Delicious Dishes (Food) and Say "Cheese" (Photos).
What are you bringing to the party?