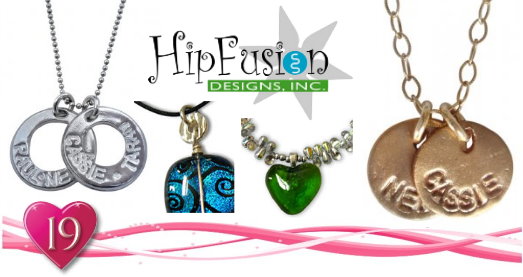 GIVEAWAY CLOSED
Well…we made it,one last great sponsor for you! You are sure to love this last prize brought to us by HipFusion Designs.
About HipFusion:
Express yourself with jewelry that has special meaning to you. Express your devotion with jewelry that has special meaning to your loved ones.
If you're looking for something for yourself (you so deserve it), or that perfect thoughtful gift, Hip Fusion's handcrafted personalized name and number tag jewelry is a perfect fit. This is not like your traditional seen-all-over-the-place name tag jewelry. All kinds of hip necklace and bracelet styles are available for moms, dads (seriously!), wives, husbands, hip grandmas, kids, flower girls, bridesmaids… the list goes on!
By manually cutting and stamping letters or numbers on metal clay that fuses into fine silver or bronze, name, initial and number tags are custom made exclusively for you… perfect for the names of children, grandchildren, siblings, parents, sweeties, birth dates, wedding dates, graduation years, etc.
Review:
I received a beautiful necklace with 3 charms, one for each boy. I don't have any jewelry with their names on it, so I will treasure this piece forever!
I love that HipFusion stands behind their work. They offer a lifetime guarantee on both materials and craftsmanship!!!
If you want to get something really special for a loved one, check out HipFusion!
Join in on the fun!  HipFusion Designs has a birthday club! Simply email your name and your birthday to Neida to sign up for her monthly newsletter, and she'll send you a $25 coupon during the month of your birthday, good on all HipFusion Designs purchases of $40 or more.  Happy birthday!
One lucky reader will win a $100 gift certificate to get their own amazing piece of jewelry from Hip Fusion Designs.

Entry is simple! You just need to answer the question below by leaving a comment on this site! You can even gain up to 3 bonus entries for doing each additional item listed (just make sure that you leave one entry for each one — up to a total of 4 comments). As a reminder, comments left on Facebook, Twitter or other posts will not be included.
EACH of the 12 participating blogs has their own prizes to give away so make sure to enter on each blog for the best chances to win! Use this Spreadsheet to keep track of your entries!
REQUIRED ENTRY:
Visit the HipFusion website, check out her designs. Come back HERE and leave a comment on what piece you think you may get with your gift certificate if you win!
BONUS ENTRIES: Please leave a seperate comment for each entry.
Subscribe to Cupcake Chronicles or Hoosier Homemade (leave a comment letting me know that you do … if you are already a subscriber … you get a second entry as well!)
Follow Hoosier Homemade on Facebook or Twitter (leave a comment letting me know that you do … if you are already a follower on Facebook or Twitter … you get a third entry as well!)
This giveaway will remain open until 11:59 p.m. EST, Friday, January 28, 2011. Any comments left after this cut-off will not be counted. The winner will be selected randomly and will be notified via email within 48 hours after the close of the contest.
This giveaway is part of the Grateful Giveaways Event being hosted by myself and 11 other bloggers. You can increase your chances of winning this prize (as well as all of the others on this site), by visiting each of them and entering the same way as you did here. You have plenty of time to get to all of them, since the contest will be open for five full days.
As one final reminder, you will want to check out the terms of the giveaway by visiting the Grateful Giveaways: Celebrating a Season of Love Facebook page. Just click on the TERMS tab at the top of the page. (Note that by entering this contest, you agree that you have read the terms and are eligible to enter this contest).
Disclosure: I received the same gift package that the winner will be receiving to facilitate my review. I did not receive any compensation to write this post. The opinions are all mine!