Halloween is next weekend! I can hardly believe how fast time goes!! I'm sure we will turn around twice and it will be Christmas.
Every year, on New Year's Eve, our boys and any guests that they have over, enjoy the Countdown to the New Year with fun goodie bags.
Even though our boys are teenagers, they still love Halloween; the food, decorations and especially the treats! All week long, I'll be sharing fun Halloween Treats that you will be able to share with your family too!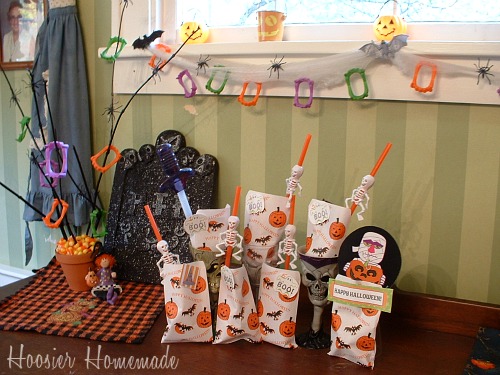 Since kids receive lots of candy during Halloween, whether they go Trick-or-Treating, Classroom Parties, or just a home party, I decided to fill these bags with some inexpensive treats from the dollar store and the dollar section at Target.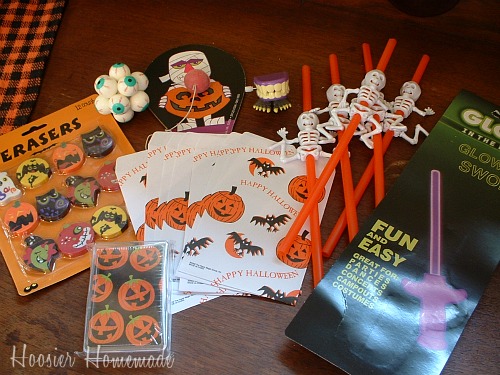 Playing cards, Paddleball, Glow-in-the-dark Sword, an Eyeball Bouncy Ball, Chattering teeth, Skeleton Straws and erasers, are just a few ideas that you can use. The ideas are endless…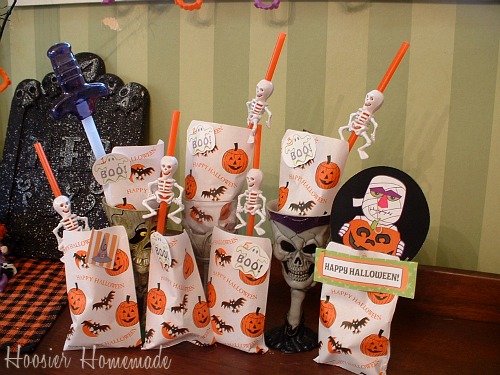 Do you recognize the Countdown Tags? I printed some of the Halloween Printables that were in the Cupcake Chronicles Newsletter last week.
I simply cut out the ghost, hat and the Happy Halloween from the printables and added the number for the Countdown.
After creating my Halloween Mantle and making it so creepy, I wanted the Halloween Decorations in the Dining Room a little more fun and kid-friendly.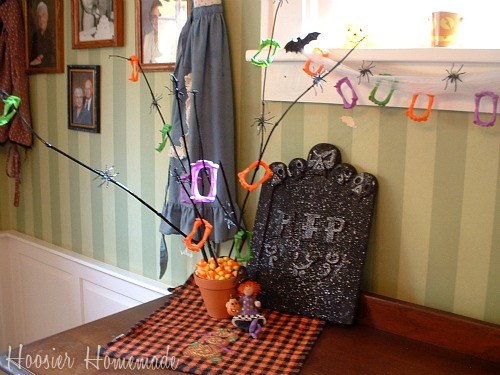 Halloween Tree:
Casey, our youngest, helped me create our Halloween Tree. He simply cut a few branches off the tree and spray painted them black, filled a clay pot with styrofoam blocks and pushed the branches into them.
Then I glued some plastic fangs and spiders (spider rings with the ring part cut off) and filled the pot with candy corn to cover the foam.
I added a gravestone that I found at Dollar Tree last year and a cute little Witch that I've had for a long time.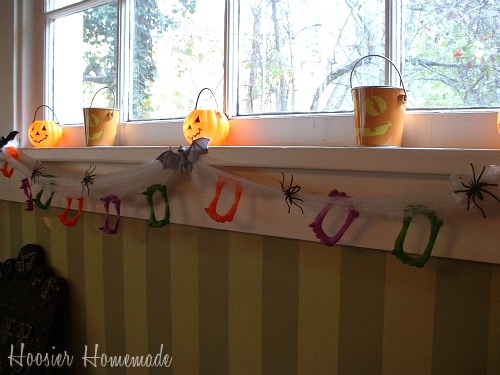 Spiderweb Garland: 
To create the Spiderweb Garland, I simply tore off a piece of the Spiderweb, stretched it out a bit and attached it to the bottom of the window with wire. Then I added some more of the plastic fangs, spiders and glued some plastic bats to the ends and in the middle.
Check out the NEW feature on It's A Blog Party! We are highlighting one special blogger each day (starting Monday)
Do you take your children Trick-or-Treating? What do you do with all the candy?