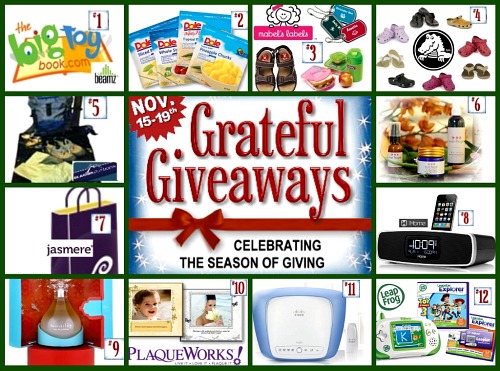 Be sure to enter the Grateful Giveaways!! They will stay open until Friday, November 19th at midnight.
Giveaway #1 Beamz from Big Toy Book
Giveaway #5 Glacier Outdoor River Pack
Giveaway #9 Forever Lily Perfume
Giveaway #10 PlaqueWorks photo
Giveaway #12 LeapFrog Explorer
For even more chances to win, visit the other 11 bloggers that are participating in this event…
To celebrate the season of giving, we have added a new twist to this event and we have decided to include  a charity ….  some of our sponsors have agreed to make donations to Toys for Tots!  How cool is that?
You can follow how The Big Toy Book is creating their pile of toys for donation!!
Comments are closed on this page…you need to visit EACH giveaway and enter!
Thanks so much and Good Luck!!