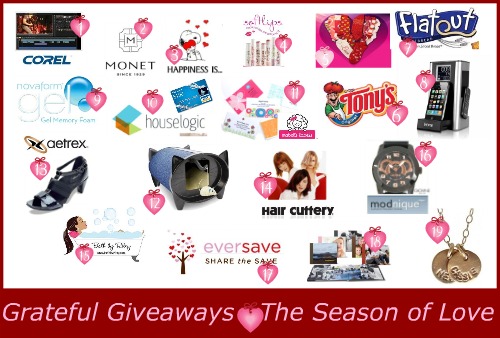 Starting tomorrow morning, bright and early at 5 a.m. CST, the Grateful Giveaways: The Season of Love will begin.
All day long, every hour, we will be bringing you a chance to win some amazing prizes! If you are regular reader, and not interested in giveaways, I apologize for the extra posts. You will still only receive one email if you are a daily subscriber. If you also subscribe to the Reviews and Giveaways Newsletter, than you will receive all the giveaways for that day in one email.
You will have all week, until Friday the 28th. at midnight to enter. And be sure to follow the other 11 Grateful Giveaway Bloggers…
You can find all the current giveaways, including the Grateful Giveaways, on the Reviews and Giveaways page or just click on the button in the sidebar!

Don't miss my current giveaway for Vermont Nut Free Chocolates Valentine Candy!
Comments are closed on this post, you need to visit each giveaway and enter there.