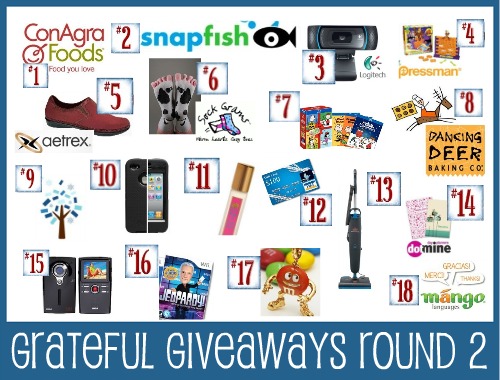 Thank you to all our sponsors! We really appreciate your support!! And thank you to everyone who entered!
All winners have been notified and will have 48 hours to respond.
Jennifer h says Chef boyardee is a big hit in our home
kellie says i'd like to give my mom a calender w/ pictures of her grandkids
Donna Smith says I follow you on facebook!
Giveaway #4 ~ Pressman Board Games
Candice says Liked you on FB (michelle monks)
Tammy L says I am a fan of Aetrex on Facebook.
Kelly D. says I follow Hoosier Homemade via email!
tina horn says i love snoopy!
Giveaway #8 ~ Dancing Deer Baking Holiday Collection
Ann Johnson says I follow Dancing Deer Baking on Facebook ~ Ann Heley Johnson.
Giveaway #9 ~ Eversave $100 Credit
Jessica B says I like eversave on Facebook!
Melinda says I follow you on FB
Sonya Eaton says I am a fan of Otterbox on FB.
Giveaway #11 ~ Elizabeth Arden Perfume
kathryn says I like Honey.
Giveaway #12 ~ $100 Visa Gift Card
Sandy G. says I like you can comparison shop on a specific item and add notes so you have all your information in one place.
Giveaway #13 ~ Bissell Steam & Sweep
Dee says I am a subscriber. The Bissell Healthy Home Vac would be great to replace our dying vac. Thanks for the opportunity.
Giveaway #14 ~ TimeMine Planner
Monica S says i'm an email subscriber
Kelly says I'm an HH subscriber
Julie says email subscriber
Kelly B says I like the Green Family Time Mine planner, it could help me with scheduling doctors appointments, after school activities, soccer and boys scouts meetings, etc., for my busy family!
Els says Like Dot mine on FB…!
Giveaway #15 ~ RCA Small Wonder Camcorder
HEIDI HOLLADAY says i Follow Audiovox on Facebook
tacie Frost says My little boy LOVES his Wii. I think he would most like DreamWorks' Megamind: The Blue Defender. He loved the movie, so he'd probably love the game.
Ashley says I like you on fb.
Giveaway #18 ~ Mango Languages
Lisa P. says I would love to learn Italian!