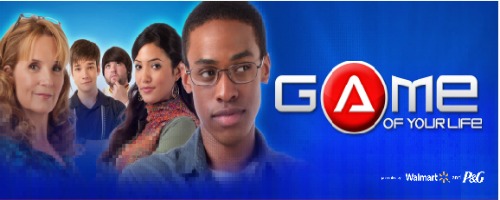 When I was asked to share the Family Movie from Walmart and P&G, I knew it would be a perfect movie for Andrew, our oldest son, to watch. He LOVES video games and is also a movie buff. Andrew is also a very talented writer! He has been tossing around the idea of starting a blog. In preparation for that, I have given him some of the recent reviews that I have been offered.
This review was a perfect fit for him…take it away Andrew…
Game of Your Life is a family friendly, geek friendly movie produced by Walmart and P&G. The story consists of high school gamer Zach Taylor's adventure into video game design. Even though he was accepted with a scholarship to an exclusive designing program, Zach finds out that not everything is easy. He has to learn where his loyalty lies, and eventually learns the importance of responsibility, particularly to his team.
The quality of this movie is very good. The actors fill their role particularly well, Titus Makin Jr., who plays Zach, works very well as the show's frontman. He has a good grasp on the range of emotions that comes with a role that's so stressful. Zach's teammates, Nathan Kress and Adam Cagley, make a duo that is a blast to watch whenever they're onscreen. The only misstep in acting is when the older adults talk geek. They just put off that feeling of those parents who try too hard to be hip. Other than that the cast does admirably.
The story takes a few unexpected twists and turns, and ends in a satisfying way. The production values and actors do very well, and the values that this movie teaches are important life lessons. This is a great movie for the family, especially if that family includes a son or daughter interested in video game design. I'd give it a rating of 7 out of 10.

Thanks for sharing your thoughts Andrew!
Tune into NBC to catch Game of Your Life on Friday, December 2nd at 7 p.m. CST

Disclosure: This post is part of a campaign I am participating in with the Walmart Moms. Walmart has provided me with compensation  for this post. My participation is voluntary and opinions, as always are my own.