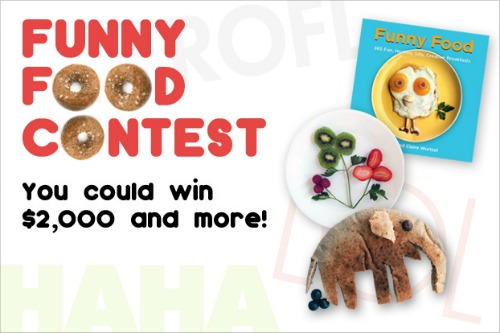 Do you love to play with your food? Yes? Cool, well I have an exciting new Contest to tell you about PLUS the Funny Food Book Giveaway. Lifetime Moms has partnered with Claire and Bill Wurtzel, authors of "Funny Food", to show you how easy and fun eating well can be.
Get excited about fruits and vegetables and play with your food for a chance to win!  Enter the photo contest by creating your own masterpiece using healthy ingredients like apples, pears, nuts, carrots, berries, oatmeal and more.  You'd be amazed how easily simple foods can be transformed into your favorite animals, flowers, faces – the possibilities are endless!  You don't need to be an artist; all it takes is a little imagination and some healthy ingredients.
Each week Lifetime Moms will be giving away a copy of the Funny Food book along with $100 cash to a winning photo entry.  At the end of the contest, one Grand Prize winner will get a Funny Food book plus $2,000!


The authors of Funny Food, along with myself, are contributors on Lifetime Moms. Wouldn't it be fun to start your day with a fun breakfast like one of these? You can see more of Claire and Bill Wurtzel's Funny Food designs in their book, website and on Lifetime Moms.
GIVEAWAY CLOSED –  Check the Giveaway Winners Page
GIVEAWAY GUIDELINES:
Three (3) lucky Hoosier Homemade winners will receive prizes:
1 Grandprize = Funny Food Book plus $50 gift card
2 prizes = Funny Food Book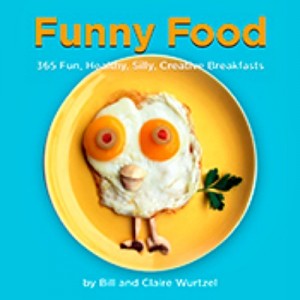 Entries only accepted on this page. Facebook and Twitter entries do not count.
Giveaway will remain open until July 5, 2012 at  10 p.m. CST. Winner will be chosen at random, notified by email and will have 48 hours to respond.
REQUIRED ENTRY:
Head on over to Funny Food, come back and tell us which breakfast is your favorite
OPTIONAL ENTRIES: Please leave a separate comment for each entry