My middle son, Nick, is a triple sport athlete. So, during every season, football, basketball and baseball we have to raise money for him to play. This year, during baseball season, he was able to get quite a few donations. I think it's important for him to always send a thank you note. I wanted to do something special this time and came up with these notes.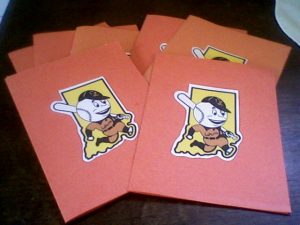 First, I searched the internet for a picture of our baseball mascot, and thanks to my friend, Jane, found it. I printed several and cut them out. Then I got some regular orange construction paper from my stash, cut it in half and then folded it in half to form the note.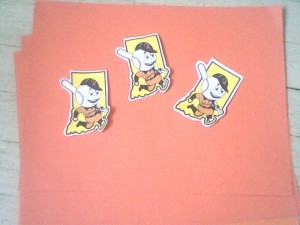 I glued the baseball figure on the front, and they were ready to go.
You could very easily switch these out for any occasion. Maybe pink paper with a Barbie figure on it or blue paper with a Star Wars figure on it. The ideas are endless.
Please visit these great blog carnivals for more inspiration:
~Tackle It Tuesday hosted by 5 Minutes for Mom
~Talk About Tuesday hosted by The Lazy Organizer