About a month or so ago I took down my snowmen and put up the Spring decorations. I wasn't really too happy with the way the mantle turned out, but needed to look at it for awhile to see if I was going to like it. Well, I decided it needed to be changed, so yesterday, I decided to change the Living Room furniture around, Spring clean and change the decorations.
This is what I started with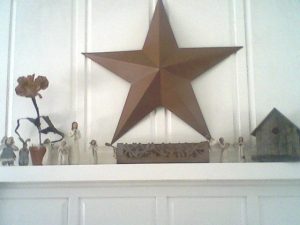 It was okay, but I just wasn't crazy about it, so I took everything off, and came up with this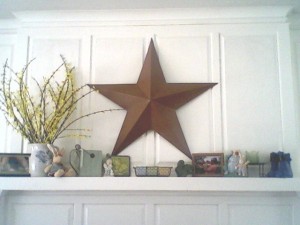 It was still just okay, I needed something taller on the right side to balance the forsythia (my husband cut these from the farm he works at) that I have on the left side. I added a tall container and was going to wait to find some pussy willows, but decided to head to the yard and find what I could. And this is what I came up with…
I was very excited with the way it turned out.
So for $-0- I re-decorated the mantle, and am now happy with it.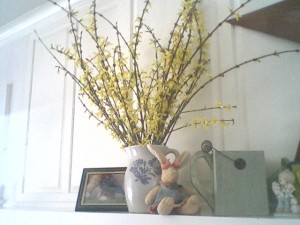 Please visit Life As Mom for more Frugal Friday tips.