Welcome to Friday Favorites! Monica from Daily Dwelling and I co-host, and this week is my turn.
Wow, the weeks are just flying by. I can hardly believe it's the middle of January already.
Today I'm sharing a some fun projects for Winter, a few yummy recipes and a couple blogging tips. Enjoy!
 Cooking/Baking:
 ~Black Forest Bars baked by Cooking During Stolen Moments
~Quick and Easy Peach Cobbler baked by Secrets of a Southern Kitchen
~Chocolate Turtles made by Basketmaster's Weavings
Decorating:
~Winter Decorations made by The Brudcrew
~Establishing a Purpose and Focal Point posted by The Inspired Room
~Decorating with Pinecones posted by Cottage and Vine
DIY Projects:
~Great birthday banner made by Myra, who was a guest on Kingdom First Mom
~Christmas Card Bookmarks made by The Frugal Girls
~Make Your Own Business Cards by Daily Dwelling
Blogging Tid Bits
~Sample PR Pitches posted by Elementary Spirits
~Making the most of Blissdom posted by Musings of a Housewife
 And in case you missed my Mr. Snowman Cupcake this week, I just had to share him again.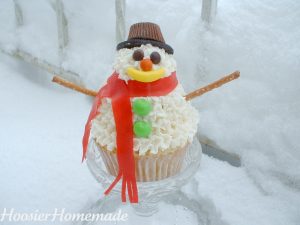 Now it's your turn to share your list of favorites! Please link up your post and include a link back to this post! Thanks for joining in the fun!