Print
Firecracker Cupcakes for the 4th of July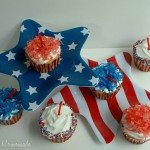 Ingredients
Yellow or Butter Recipe Cake Mix plus ingredients {4 eggs, 1/3 cup oil & 1 cup buttermilk}
1-1/2 cups Baker's Angel Flake Coconut, divided
Royal Blue and No-Taste Red Wilton Coloring
2 cups thawed COOL WHIP Whipped Topping
24 red string licorice pieces
Festive Sprinkles {optional}
Instructions
Mix and bake cupcakes.
Frost with Cool Whip.
Divide coconut into 2 bowls, add a couple drops of coloring, and mix well with a fork
Sprinkle cupcakes with tinted coconut or roll in sprinkles.
Using a toothpick, make a hole for the licorice.
Cut licorice into 4 inch piece and add to cupcake.
By continuing to use the site, you agree to the use of cookies. more information
The cookie settings on this website are set to "allow cookies" to give you the best browsing experience possible. If you continue to use this website without changing your cookie settings or you click "Accept" below then you are consenting to this.