Because I know you love Pinterest and you love Fall – I know you are going to LOVE the Fall Ready Pinning Party! The theme for this Pinterest Party is Home Improvement to get your home Fall Ready. You'll see pins on money saving DIY tips, organization, and essential fall tasks to complete before the cold days of winter set in for good.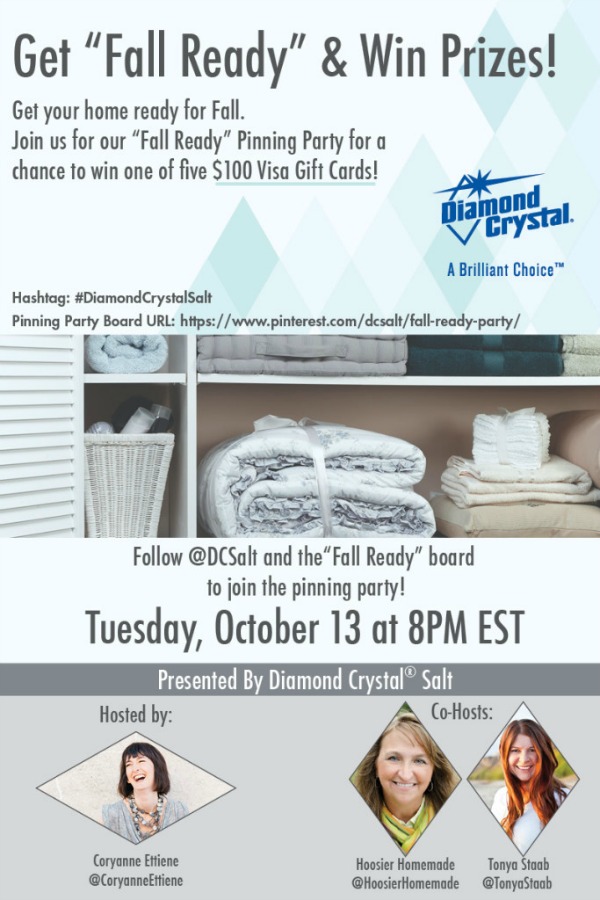 So follow the How To directions below to follow, pin, and enter PLUS check out the other bloggers that will be participating as well. Looking forward to pinning our way to Fall Ready Home Improvement with everyone!
When: October 13, 2015
Time: 8pm – 9pm EST
Where: Pinterest and Twitter tag #DiamondCrystalSalt on the Fall  Ready party board
Follow:  @HoosierHomemade  @CoryanneEttiene @TonyaStaab  @DCSalt
Prizes: Diamond Crystal® Salt will be gifting 5 x $100 Visa Gift Cards during the Pinning Party to 5 lucky winners chosen at random from those participants following the rules and regulations.
How To:  Joining a Pinning Party is as easy as following the party board and the hosts, then popping on to Pinterest to watch the party pins populate live during the party hour. By following the board and the hosts, you will see all the party themed pins as they are populated and be able to engage live with everyone else at the party by leaving comments on the party pins, re-pinning the pins that inspire you and sharing your favorite pins on Facebook and Twitter. During the party, 5 prize pins will appear that look like graphic question pins.  For a chance to win one of the five prizes, leave a comment on the prize pins with your answer to the questions asked. Can't make the party hour? Don't worry, the beauty of a Pinning Party is that the pins are there for you to review long after the party ends so you can still capture all of the inspiration even if you can't make the party.
Rules & Regulations:Prizes are open to US residents over the age of 18. Winners will be selected at random from the comments left on the prize pins, and announced following the Pinning party by @CoryanneEttiene. Winners will be sent a private Pin message to notify them of their win so please be sure to follow @CoryanneEttiene to keep the communication lines open.  No purchase necessary, void where prohibited. For a full list of rules and regulations, contact Ettiene Media LLC. This Pinning Party is not associated with Pinterest and is an independent joint venture between the representative parties of Diamond Crystal® Salt and Ettiene Media LLC.
Disclaimer: Ettiene Media, LLC has partnered with Diamond Crystal® Salt on a Autumn long media program and has been compensated to run the social programs, including the hosting of 2 social parties on Pinterest.  All thoughts expressed are my own.