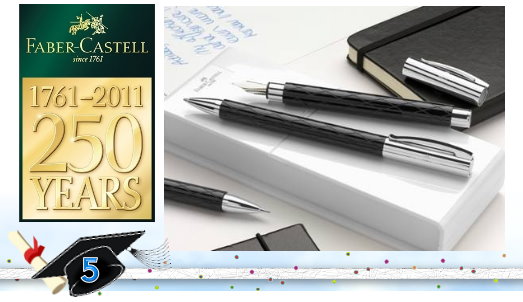 GIVEAWAY CLOSED
What does it say about a company that has been in business since 1761? That's right, 250 years ago Faber-Castell was founded in Germany as a pencil manufacturer. Today, Faber-Castell is a world renowned for its art supplies and fine writing instruments. Faber-Castell stands behind the quality of their work by guaranteeing the mechanics of your writing instrument for life.
Whether the graduate in your life will be continuing their education or entering the workforce, Faber-Castell makes a a writing implement to fit every style making the perfect gift. Check out all the design choices at Faber-Castell.com
I'm a huge list maker, and every Sunday morning I sit down with Doug and we spend a couple of hours planning our week. Scheduling our responsibilities between our blogs and family life you can imagine the multitude of items we plan for each and every day.
Now just because you know me through my work here on Hoosier Homemade and the internet I am a little old fashion and like to hand write all my ideas and tasks with pen and paper. There is always a pen close by while I'm working and it annoys me to no end when I pick one up and start to write and idea down and the ink doesn't flow nicely.
When the package arrived with the Faber-Castell pens to review I had to confiscate it from my husband and make him a deal, let me do my review and when I am through with it you may have the pens. Well I hate to tell him but he's not getting these pens now that I've got them. I love the feel of the pens in my hand you can tell the quality and craftsmanship is top shelf and I loved how the ink flowed on the paper. So I am excited to be able to offer these in today's giveaway.
One lucky reader will win 2 Faber-Castell pens with a value of more than $100!!

Entry is simple! You just need to answer the question below by leaving a comment on this site! You can even gain up to 3 bonus entries for doing each additional item listed (just make sure that you leave one entry for each one — up to a total of 4 comments). As a reminder, comments left on Facebook, Twitter or other posts will not be included.
REQUIRED ENTRY:
BONUS ENTRIES:
This giveaway will remain open until 11:59 p.m. EST, Friday, April the 15th, 2011. Any comments left after this cut-off will not be counted. The winner will be selected randomly and will be notified via email within 48 hours after the close of the contest.
This giveaway is part of the Grateful Giveaways Event being hosted by myself and 11 other bloggers. You can increase your chances of winning this prize (as well as all of the others on this site), by visiting each of them and entering the same way as you did here. You have plenty of time to get to all of them, since the contest will be open for five full days.
EACH of the 12 participating blogs has their own prizes to give away so make sure to enter on each blog for the best chances to win! Use this Spreadsheet to keep track of your entries!
As one final reminder, you will want to check out the terms of the giveaway by visiting the Grateful Giveaways Facebook page. Just click on the TERMS tab at the top of the page. (Note that by entering this contest, you agree that you have read the terms and are eligible to enter this contest).
Disclosure: I received the same gift package that the winner will be receiving to facilitate my review. I did not receive any compensation to write this post. The opinions are all mine!