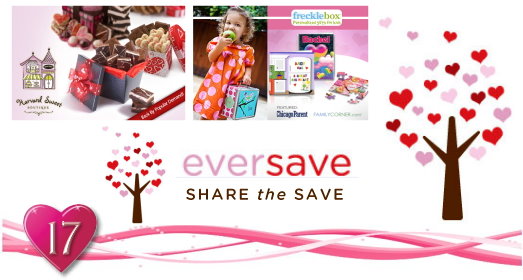 GIVEAWAY CLOSED
If you have not checked out Eversave…you are missing out on some fabulous deals. The Eversave team works day and night to negotiate rock-bottom deals on the things you love to do and buy in your area. From spa treatments to restaurant discounts, ski packages to yoga classes – they find the best deals and deliver them to you – in the form of a Save.
By signing up for their Daily Save emails, you'll be the first to know about the great deals they offer each day! As a new member you will get a $2 credit that you can use on any Save to make their already great deals even better!
Want more credits?? Eversave rewards you when you refer your family and friends. When one of your referrals buys their first Save, Eversave will add $12 in Save Rewards to your account. When you see a great deal, you can easily share them via Twitter or Facebook and then watch your Save Rewards add up as your friends grab the deals that you share!
I am a huge fan of Eversave. While I have grabbed several deals for myself, I have been taking advantage of their option to give the Save as a gift! Your recipient will only see the wonderful gift that they are getting….they will never know that you did not pay full price! I have given some great gifts including personalized jewelry, scarves, chocolates and my husband's favorite – a car detailing package!! I love how Eversave works to not only bring us the best deals but ones that are diverse and appeal to so many!
Eversave wants to give you $100 of Eversave Credit to spend however you'd like.
Entry is simple! You just need to answer the question below by leaving a comment on this site! You can even gain up to 3 bonus entries for doing each additional item listed (just make sure that you leave one comment for each one — up to a total of 4 comments). As a reminder, comments left on Facebook, Twitter or other posts will not be included.
REQUIRED ENTRY:
Head on over to Eversave and checkout the deals for today. Come back HERE and let me know what you think would be a good Eversave deal!
BONUS ENTRIES: Please leave a seperate comment for each entry.
This giveaway will remain open until 11:59 p.m. EST, Friday, January 28th. Any comments left after this cut-off will not be counted. The winner will be selected randomly and will be notified via email within 48 hours after the close of the contest.
This giveaway is part of the Grateful Giveaways Event being hosted by myself and 11 other bloggers. You can increase your chances of winning this prize (as well as all of the others on this site), by visiting each of them and entering the same way as you did here. You have plenty of time to get to all of them, since the contest will be open for five full days.
EACH of the 12 participating blogs has their own prizes to give away so make sure to enter on each blog for the best chances to win! Use this Spreadsheet to keep track of your entries!
As one final reminder, you will want to check out the terms of the giveaway by visiting the Grateful Giveaways: Celebrating a Season of Giving Facebook page. Just click on the TERMS tab at the top of the page. (Note that by entering this contest, you agree that you have read the terms and are eligible to enter this contest).
I received the same prize package as the winner to facilitate my review. My opinions of these products are 100% my own.