Dirt and crumbs, beware! There's a new vacuum in town, and he won't stand for filth. Animal hair and food crumbs don't have a chance against the new Eureka SuctionSeal with AirSpeed Technology. With new steps in cleaning technology, this vacuum is the hero your home deserves.
The highlight of this new vacuum from Eureka is the SuctionSeal and its Technology with All-Surface Suction Plates.  It's designed to prevent pushing, blowing and scattering of debris while vacuuming, and the plates are designed to rise and lower as the vacuum moves across carpet and hard surfaces.  This means more suction and less of a chance for the dirt to escape.
We only have one room in our home that has carpet, so using a vacuum that is powerful on bare surfaces, is important. In fact, 70 perfect of consumer use their vacuums on bare surfaces.
Along with the SuctionSeal, is Eureka's popular and exclusive AirSpeed Technology. This technology uses two wide, smooth tubes with limited bends and turns, allowing more air to pass through the vacuum for powerful suction. Most vacuums propel air through a long nozzle and hose system full of twists and texturing, weakening the suction power considerably.
This change in power was easily noticeable as I glided across the floor, dirt and hair being pulled into the vacuum like it belonged there. And with a black dog shedding all the time…there is a LOT of hair.
The only real issue I had was with the cord. At 27 feet long, the cord seems to be on the skimp side. It's still long enough for any normal room, but in bigger rooms you might have to change outlets from time to time. The vacuum features an automatic cord rewind, which is better than the traditional wrapping around the vacuum. However, it did take some finagling to get the cord wound up all the way.
Overall, this vacuum is good. It cleans up messes quickly and easily, and it works on both carpets and hard floors. If you are looking for a new vacuum, I would recommend you look at the Eureka SuctionSeal Upright. It's definitely one of the better vacuums on the market right now.
You can find the Eureka SuctionSeal Upright Vacuum at Walmart and Walmart.com.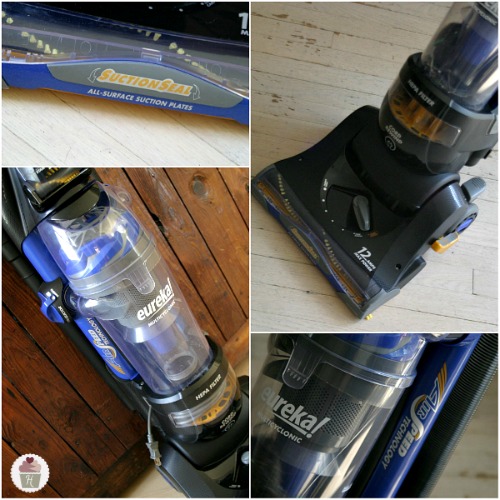 GIVEAWAY CLOSED –  Check the Giveaway Winners Page
GIVEAWAY GUIDELINES:
One lucky Hoosier Homemade winners will receive an Eureka SuctionSeal Upright Vacuum with AirSpeed Technology valued at $150
Giveaway open to US residents only
Entries only accepted on this page. Facebook and Twitter entries do not count.
If you are reading this in email, please comment on the post.
Giveaway will remain open until Friday, March 30, 2012 at 10 p.m. CST. Winner will be chosen at random, notified by email and will have 48 hours to respond.
REQUIRED ENTRY:
How do you make cleaning your home easier?
OPTIONAL ENTRIES: Please leave a separate comment for each entry
Disclosure: I received an Eureka SuctionSeal Upright Vacuum for my review. As always, the opinions are my own.