I've had such a great time decorating our home for Spring. I shared our Mantle and some of our Dining Room with you.
I also wanted to share a little tutorial on how I decorated our Buffet. Our Dining Room table and Buffet were passed down from my parents. And in a crazy twist, we are now living across the street from the family that originally owned the set.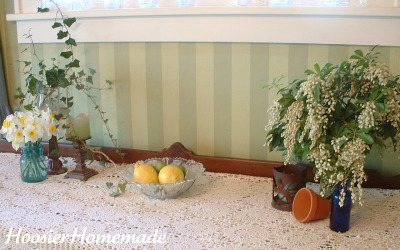 I used Ivy and Bridal Veil, once again, to bring the outside in. I love the look of the fresh green and even better, it doesn't cost a penny to decorate with it.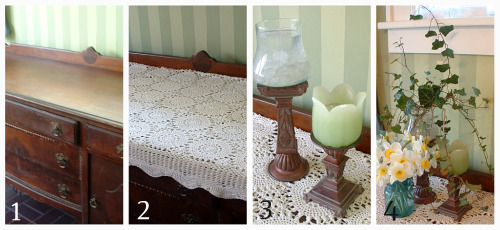 Here is the buffet before I started
I added a lace tablecloth that belonged to my Mother-In-Law
The candlesticks worked perfectly when I turned them upside down. On the taller one I placed a small vase that I filled with glass rocks, water and added fresh ivy. On the smaller candlestick, I added a tulip shaped candle in mint green.
Then in front I put a pint size (short) aqua blue mason jar, and added some daffodils.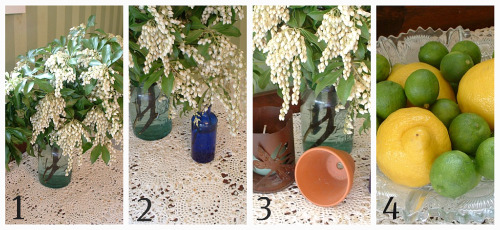 At the opposite end of the buffet (because I like balance when I'm decorating) I added some Bridal Veil in a quart size (large) aqua mason jar.
Then in front I placed a small darker blue vase with a small piece of Bridal Veil.
I added another candle holder with a round green candle to coordinate with the other side. And a small clay pot, laying on it's side.
In the middle of the buffet, I added a glass bowl with lemons and limes.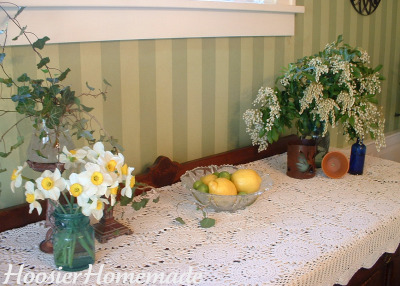 Do you decorate your home for the seasons? Share with us your ideas!