This past weekend, Doug and two of the boys went to visit my Father-in-law, leaving me home, ALONE, (for most of the time) for 28 hrs!
I highly considered, soaking my feet, doing my nails, eating bon bons and watching Food Network…but, alas, that didn't happen. What did I do?
Well, like any crazy blogger does! Clean and re-decorate so that I can share with my readers!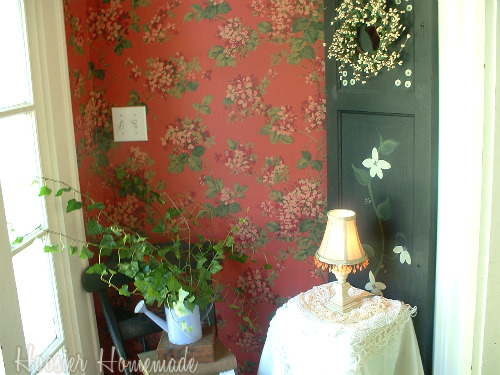 A few months back, I shared with you the Antique Horse that I found in the basement, I went searching again and found this cute little chair and these old shutters.
I love the charm that little chairs have, I shared the chair on our front porch for Spring and Summer. They fill up any bare corner, and add a bit of whimsy as well.
I started with a clean slate…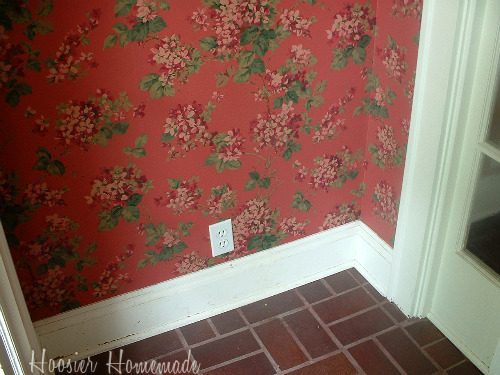 I love the Hydrangeas on the wallpaper and had a 4 foot tree with dried hydrangeas on it for quite awhile. It was time for a change though.
I added the shutter in the corner, placed a plant stand with a tablecloth and a little lamp in front of it. And then on the chair, I stacked some books, a little wooden box and added a little watering can with fresh ivy from the yard.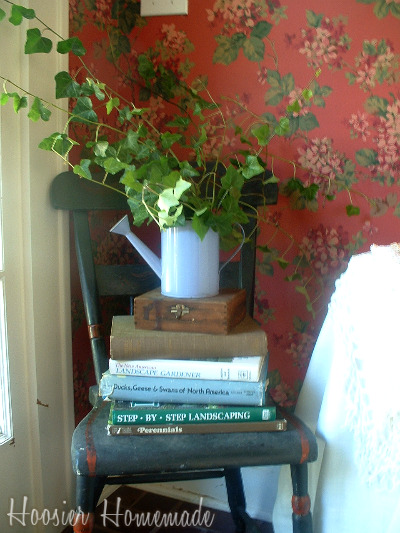 I love the pop of color, but not too shocking, that the watering can gives.
There were a whole stack of shutters, so I grabbed another one and hung it on the wall in the Living Room.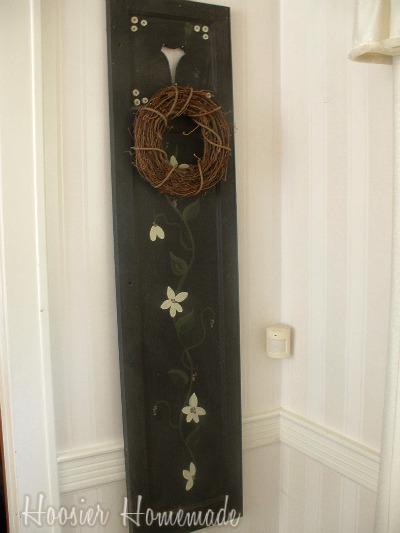 After seeing this idea on one of my favorite blogs, Miss Mustard Seed, I knew just what I wanted to do. I simply hung the shutter and added a grapvine wreath. I like how it fills up the length of the wall.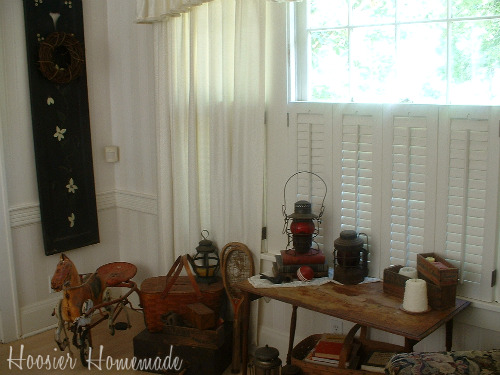 Remember the horse I mentioned earlier? There he is! Don't you just love him? He is my favorite, although, I think I have a new favorite…not far behind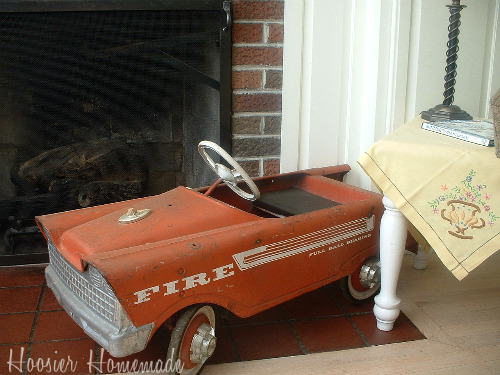 And yes…I found it in the basement too! The people that own our home left lots of great treasurers, that I am now enjoying.
Even better…I spent nothing..nada…zero on my re-decorating weekend!
Don't miss out of the Froggy Hunt! Hop on over and grab all the details on how to WIN some great prizes! Hurry! Giveaways close on Thursday, the 29th at 10 p.m. CST!
I'm linking to the Blog Parties in my footer, please visit them! You might just find one or two that are new to you!