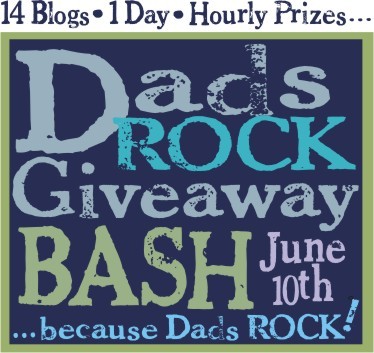 We are so excited! The Dads Rock Giveaway Bash is Thursday! Are you ready? This is going to be AWESOME!
As of right now, I have 21 giveaways for you! And so that we both aren't so overwhelmed on Thursday, I'm spreading them out a bit. You will have until midnight on Monday, June 14th. to enter though.
I'm sure you are just dying to know what I will be offering, well, wait no longer…
Last Minute Gifts ~ $100 Gift Card
Western Union ~ $50 Gift Cards (3)
I Love Inns Books ~ 2 Gift Certificates for BOGO Night Free (4)
Traverse Bay Farms Fruit Salsa
Father's Day Coupon Cards from Living Locurto (5)
Between Me and You…Father's Journal
Liquid Fence Company ~ Insect Repellent & Speedy Grow Plant Booster
Country Bob's All Purpose Sauce
And remember, you can enter on all 14 blogs! With several chances to win on each blog!
Be sure to follow along for all the latest updates on the Dads Rock Giveaway Bash by "liking" Dads Rock on Facebook, and following #DadsRock on Twitter.  This is an event you won't want to miss!
See you Thursday! Bright and early at 6 a.m. Central!