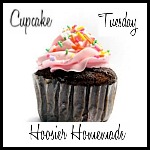 Welcome to Cupcake Tuesday!   If you are new here, grab a cup of tea or a glass of milk and enjoy a cupcake!
St. Patrick's Day is Wednesday! I couldn't let another Cupcake Tuesday go by without sharing yet another fun green dessert with you. 🙂 A special Thank you to all who linked up last week, I will be making a donation to our local Girl Scouts and also sharing some cupcakes with them.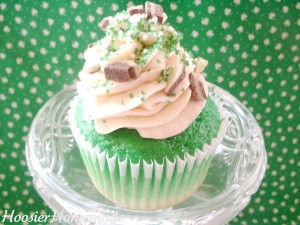 Recently while visiting Amanda, over at I Am Baker, I fell in love with her St. Pattys Day Cake, all the different shades of green are so eye catching. I knew I had to try it in a cupcake.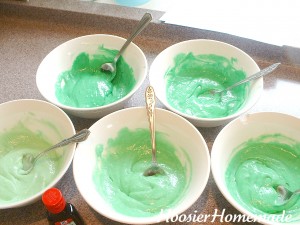 I started with a white cake batter, you can find several really good recipes on my Cupcake Heaven page, toward the bottom. I divided the batter, then added green food color to each bowl.
Layer 1 = 1 drop
Layer 2 = 4 drops
Layer 3 = 8 drops
Layer 4 = 12 drops
Layer 5 = 14 drops
Then I filled each cupcake liner with a heaping teaspoon of each color, and baked them at 350 degrees for about 15 minutes or until a toothpick inserted in the middle comes out clean.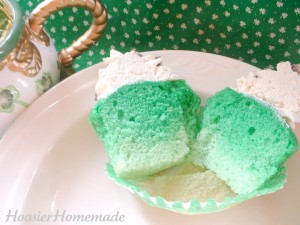 I think they turned out pretty cute! I think next time I will bake them in the jumbo cupcake pans, so that each layer has more batter and will show up more.
I frosted them with Buttercream Frosting, sprinkled them with green sugar, white nonpareils and Andes' Mint Chips.
Now it's your turn! Please share your cupcake or muffin recipe! For the guidelines, you can visit Cupcake Tuesday.
Please be sure to link back to this post (I've had several links that were not linked back here) and visit some (or all) of the other participants.
I'm trying a new linky this week, I discovered it while linking up over at Chatting at the Sky, it includes a picture and I thought it would be fun to be able to see all of your cupcakes and muffins. Just follow the prompts, it really easy. I added a link so you could see what it looks like.