I hope you are enjoying all the Christmas goodies I am sharing with you. I know my family is enjoying eating them all 🙂 If you missed them, last week on Cupcake Tuesday, I shared Holly Cupcakes.
One of my favorite books, is Martha Stewart's Cupcake Book, today I'm sharing my version of her Gingerbread Cupcakes.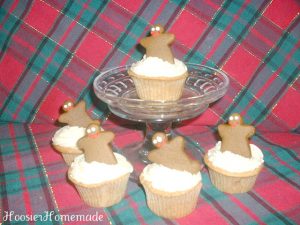 I baked the Gingerbread Cookies and decided to share them in the 12 Days of Christmas Cookies that I have been posting everyday, so that this post wasn't super long.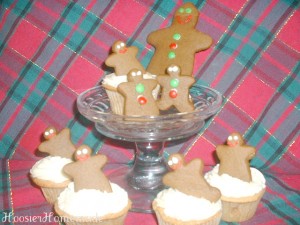 Ingredients for Cupcakes:
1 1/2 c. Flour
2 T. Ground Ginger
2 t. Cinnamon
1/4 t. Nutmeg
1/4 t. Ground Cloves
1 1/2 c. Butter, unsalted, room temperature
1 1/2 c. Sugar
3 T. Molasses
4 Eggs, room temperature
1 t. Vanilla
Directions:
Sift together dry ingredients. Cream butter and sugar until fluffy. Add molasses until well combined. Add eggs, one at a time. beating until each is incorporated. Beat in vanilla. Gradually add flour mixture, beat just until combined. Bake at 350 degrees for 25 minutes or until a toothpick comes out clean.
I frosted them with Fluffy Vanilla Frosting and decorated them with a small Gingerbread Cookie.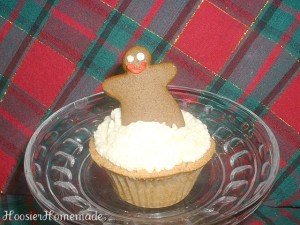 Now it's your turn! Please share your cupcake or muffin recipe! For the guidelines, you can visit Cupcake Tuesday. Be sure to link back to this post and visit some (or all) of the other participants.