Last month during the Cupcake Challenge, we used Summer flavors, events, cake mixes and even candy to create and share Summertime Fun Cupcakes!
And let me tell you…there were some amazing cupcakes! The bakers blew me away with their talent!
There was also a little competetion going on…the winner of the Cupcake Challenge, which was judged and chosen by Alan from What's New Cupcake? book, won a Flip Ultra Video Camera and of course…bragging rights as the Cupcake Challenge Summertime Winner!!
A VERY special HUGE Thank you to Alan for judging! You can catch up with Alan and Karen on their blog, website, Twitter or even Facebook! GO tell them HELLO!! Maybe even drop Alan a comment thanking him for judging…he's super busy with their great cupcake work! We REALLY appreciate his time!
And the winner is…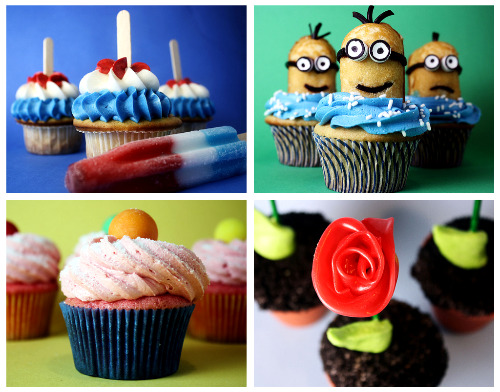 Kristan from Confessions of a Cookbook Queen created these amazing cupcakes. Alan had this to say about the cupcakes in an email to me…
"Well I think we have a winner. There were so many great entries. I loved them all. But one participant had not one, but four stunning entries. Week after week! Kristan at Confessions of a Cookbook Queen started out on a high note with Bomb Pop Cupcakes. What a great idea for a summer flavor treat. Then the next week she had me laughing at her hysterical Minions out for a swim for the Summer Event. I loved the way she wrote about kids and sour candy, and her Kool Aid Cry Baby entry for the cake mix was terrific. I can't wait to try it on the kids in my family. See if I can get them to scream Uncle when the sour hits the tongue! Finally, I really loved the Ribbon Rose Cupcakes. So simple and stunning, sounds delicious too. I also just love the way Kristan writes about her cooking adventures. Her stories are charming and her observations are very witty. She makes me want to make cupcakes every day. Well I do anyway, but she makes me want to make her cupcakes. And that is fantastic.
I think I have found a lot of new blogs to watch. Thanks to all of you for sharing these with me. I hope I will be seeing lots more fabulous cupcakes on your blogs again soon!"
Congratulations! Kristan!!
We also had 5 other giveaways that anyone could enter…the winners are…
Erin @ Making Memories says I'm heading on over to Facebook right now to follow you there too! =o)
Jessica F says Love the cocktail cupcakes
Cori W says I am following "What's New Cupcake?" on Facebook. I love this book!
carole says I like whats new cupcake? Carole
Sweetest Blooms Cupcake Decorating Kit…
Becky Black says The memorial day cupcakes are my fav — but I love the snow cones too!
Congrats to all the winners!! They have all been notified and have responded. And Thank You to all who entered!
Mark your calendars!! We have a Holiday Cupcake Challenge beginning November 2nd, for the whole month. It will run similar to the Summertime Challenge, so get those creative juices flowing and your mixers running!