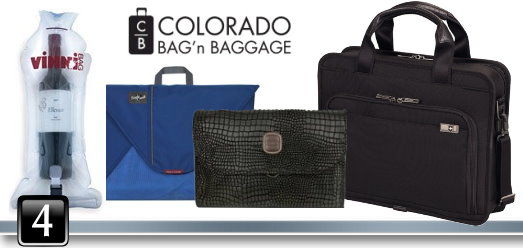 GIVEAWAY CLOSED
Our next prize is comes to you from Colorado Bag 'n Baggage. This company specializes in bringing great brands of bags, totes and travel accessories to you in one convenient location. From wallets to large travel items, you will always receive amazing customer service whether shopping in one of their stores or on-line. They offer brands such as Victorinox, Bric's, Eagle Creek and more. I was actually able to try some of these products myself – all of these are perfect for the Road Warrior Dad!
Victorinox 3.0 Architecture Laptop Brief:
This bag comes with the Swiss Tracker Bag Tracking Program (which is free). When you receive your bag, you just head to Victorinox and click on on Customer Service and then Swiss Tracker Program. Fill in your personal information and then the code from the ID tag inside of your bag. If you ever lose your bag and it is recovered, this code will help it make it's way back to you.
VinniBag is a reusable travel bag with inflatable air chambers that protect and insulate wine bottles, other liquids, and fragile items. It's designed to provide superior protection against impact and leakage, is easy to use, and stores flat, rolled or folded when not in use.
Eagle Creek Pack-It Folder 18:
The Pack-It Folder allows you to take more clothes in less space, minimizes wrinkles,comes with a helpful folding instruction board, fits in carry-on size bag and has a  quick grab handle.
Eagle Creek Pack-It Garment Sleeve: This item can easily go right from your suitcase to your closet by using the collapsible hanger.
Eagle Creek Quantam Toiletry Kit:  The bottom is molded and water-resistant which makes it just perfect for shampoos and other items that may leak — which keeps the clothes in your suitcase dry. You can actually check out a video on this great bag here.
Bric's Tri-Fold Traveler:  This is part of the Bric's Life Collection. It is a waterproof suede-effect PVC which has a spill-proof plastic lining, caramel-colored leather detailing and multiple storage compartments plus easy fold-up and snap design.
I was thrilled with the bags. Since I'm traveling a lot more now, I might just have to borrow them from Doug. The quality is great, they are super easy to pack and keep your clothes wrinkle-free.
The Giveaway:
One lucky Hoosier Homemade reader will receive a prize package valued at $470.79 that includes the following:
Victorinox 3.0 Architecture Laptop Brief
Vinni Bag
Eagle Creek Pack-It Folder 18
Eagle Creek Pack-It Garment Sleeve
Eagle Creek Quantam Toiletry Kit
Bric's Tri-Fold Traveler
Entry is simple! You just need to answer the question below by leaving a comment on this site! You can even gain up to 2 bonus entries for doing each additional item listed (just make sure that you leave one entry for each one — up to a total of 4 comments.) As a reminder, comments left on Facebook, Twitter or other posts will not be included.
REQUIRED ENTRY:
BONUS ENTRIES:
This giveaway will remain open until 11:59 p.m. EST, Friday, May 27th. Any comments left after this cut-off will not be counted. The winner will be selected randomly and will be notified via email within 48 hours after the close of the contest.
This giveaway is part of the Grateful Giveaways Event being hosted by myself and 11 other bloggers. You can increase your chances of winning one of 12 prizes, by visiting each of them and entering the same way as you did here. You have plenty of time to get to all of them, since the contest will be open for five full days.
EACH of the 12 participating blogs has their own prizes to give away so make sure to enter on each blog for the best chances to win! Use this spreadsheet to keep track of your entries!
As one final reminder, you will want to check out the terms of the giveaway by visiting the Grateful Giveaways: Celebrating a Season of Giving Facebook page. Just click on the TERMS tab at the top of the page. (Note that by entering this contest, you agree that you have read the terms and are eligible to enter this contest).
Disclosure: I received the same gift package that the winner will be receiving to facilitate my review. I did not receive any compensation to write this post. The opinions are all mine!