Print
Christmas Candy: Pretzel Hugs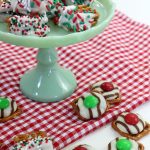 Ingredients
1 bag square pretzels
2 bags Chocolate Kisses – I used Hugs
1 bag M&M Chocolate Candies
Pretzel Sandwiches
Vanilla Almond Bark
Sprinkles
Instructions
Preheat oven to 200 degrees
Add parchment paper or silicone baking mat to a large cookie sheet
Add pretzels
Unwrap and add chocolate kisses
Bake for 4-5 minutes or until chocolate kisses are shiny and melted enough to add the M&M's
Remove from oven and immediately add M&M's, push down gently
Place in refrigerator to chill 10-15 minutes or until set.
Pretzel Sandwiches
Remove from oven and immediately add another pretzel on top, pushing down gently
Place in fridge to chill 10-15 minutes
In a small bowl, microwave 2 blocks of vanilla almond bark. Cook for 1 minute, stir, then continue cooking in 30 minute intervals, stirring after each 30 minutes and removing just before chocolate is melted. Stir until completely melted.
Set sprinkles out and work over a paper plate for easy clean up
Dip each pretzel sandwich into melted almond bark, gently shake off excess, and immediately add sprinkles.
Place back on cookie sheet and chill 10-15 minutes
Store in air tight container
By continuing to use the site, you agree to the use of cookies. more information
The cookie settings on this website are set to "allow cookies" to give you the best browsing experience possible. If you continue to use this website without changing your cookie settings or you click "Accept" below then you are consenting to this.