Print
Chocolate Chunk and Marshmallow Skillet Cookie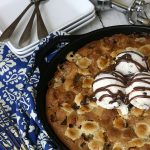 Warm right from the oven with a big scoop of Ice Cream! YUM! This Skillet Cookie Recipe is filled with Chocolate Chunks and Marshmallows!
Author:
Prep Time:

6 minutes

Cook Time:

50 minutes

Total Time:

56 minutes

Yield:

8

Category:

Cookie
Ingredients
1 cup Country Crock® Spreadable Sticks or Tub
3/4 cup granulated sugar
3/4 cup firmly packed light brown sugar
1 large egg
1 large egg yolk
2 tsp. vanilla extract
3 cups flour
1 tsp. baking powder
3/4 tsp. salt
1/4 tsp. baking soda
8 oz. chocolate chunks (about 1 1/2 cups)
2 cups mini marshmallows
Instructions
Preheat the oven to 350°.
Combine the Country Crock® Spread, both granulated sugar and light brown sugar, egg, egg yolk and vanilla in a large bowl and mix until fully incorporated (about 3 minutes).
Mix in the flour, baking powder, salt and baking soda and stir until the dough is sticky.
Reserve a few pieces of each, fold the majority of the chocolate chunks and marshmallows into the dough.
Spread the dough evenly in a 12 inch skillet and scatter the reserved chocolate chunks and marshmallows on top.
Bake until the center is cooked through, and a knife inserted in the middle comes out clean (about 50 minutes).
The top should be golden brown and slightly crunchy. Allow the cookie to cool and set for about 30 minutes.
By continuing to use the site, you agree to the use of cookies. more information
The cookie settings on this website are set to "allow cookies" to give you the best browsing experience possible. If you continue to use this website without changing your cookie settings or you click "Accept" below then you are consenting to this.