Chocolate Chip Cookie Crust topped with a layer of Cream Cheese mixture, fresh Strawberries and Strawberry Glaze – perfect for any occasion!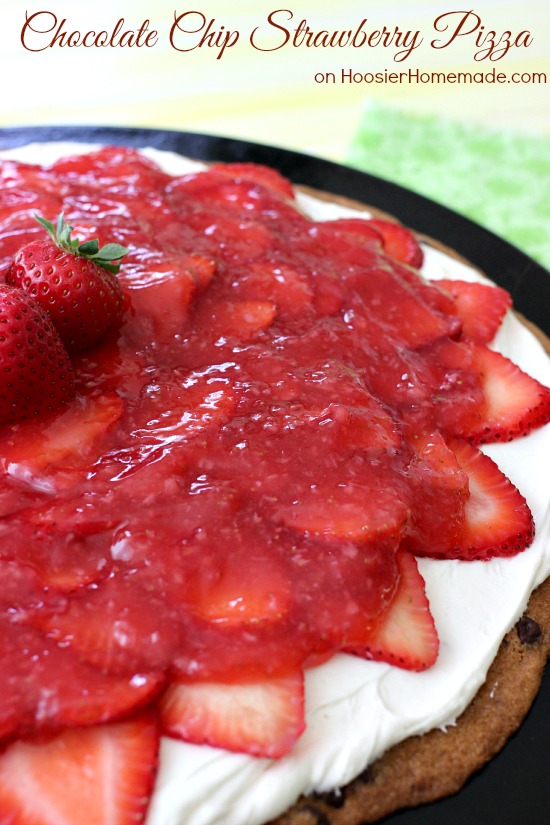 Recipe brought to you by OXO and Driscoll's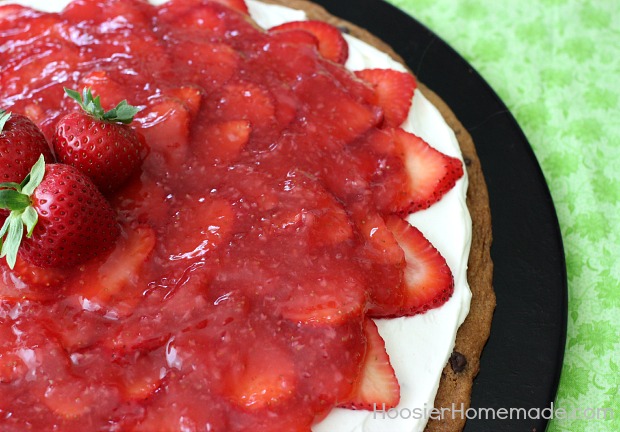 My parents loved their yard and garden. There wasn't a day that went by, unless we were knee deep in snow, that you wouldn't find them outside in the yard. My Dad was very proud of his yard, he and my Mom worked tireless hours on it to make it beautiful for all to enjoy.
One of my Dad's prize winning gardens was his Strawberry Patch. I remember him on his hands and knees for hours at a time cleaning out the berries, and picking bowls full for my Mom to use in her cooking. Unfortunately, those days have past, so until my strawberry patch begins to produce more than a handful of plump, juicy, flavorful berries, I will need to rely on Driscoll's for my Strawberries.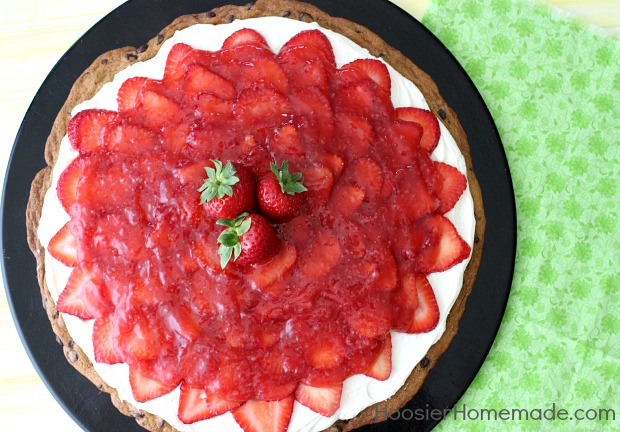 Years ago I made Fruit Pizzas quite often, but this time around when OXO and Driscoll's asked me to share a recipe with you I decided to change it up a bit. The first thing that popped into my head was a Strawberry Pizza, but it couldn't be just a normal recipe for Dessert Pizza, it needed Chocolate.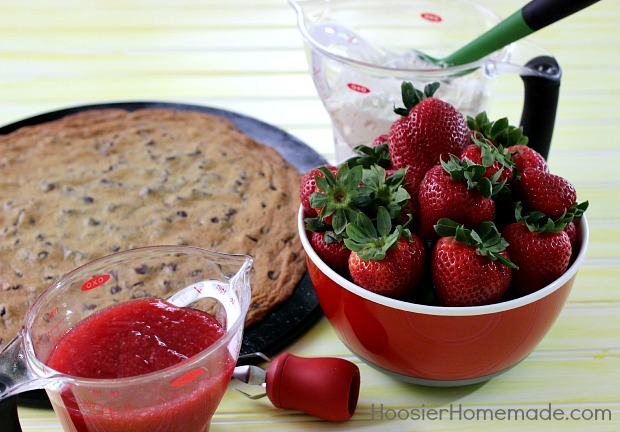 Enter the Chocolate Chip Cookie Crust – as simple as refrigerated cookie dough, spread onto a baking stone.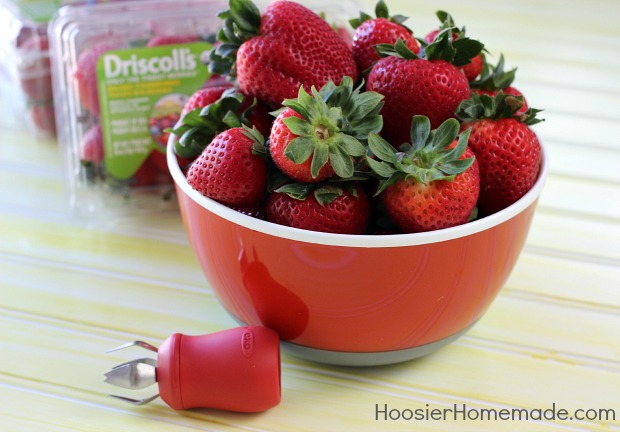 Along with a few products, OXO sent me this Berry Bowl and their new Strawberry Huller. This little tool is the best addition to my Kitchen Tools in a really long time. This – my friends – is super cool! Let me show you how it works…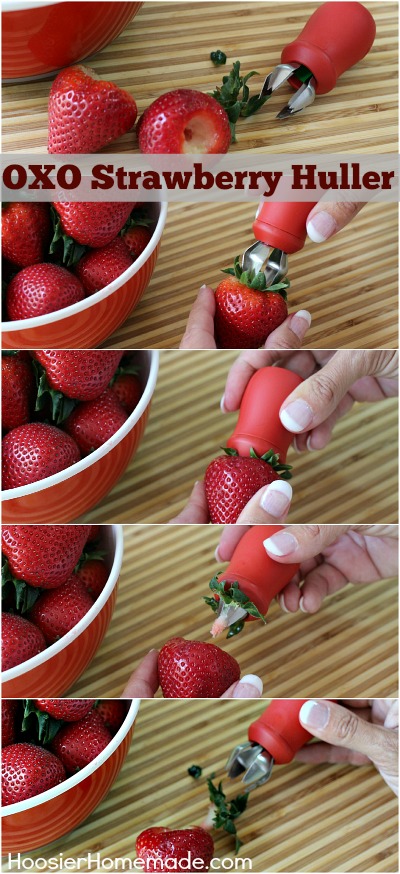 In four super easy steps, that take about 3 seconds or so, your strawberry is cleaned and hulled perfectly.
Insert the blades into the top of the strawberry
Give the Strawberry Huller a slight turn
Pull it out to remove the hull and leaves
And push the button to release the hull
If you have ever cleaned even a quart of strawberries with a knife, you will totally understand how great this Strawberry Huller is. I bet my Mom would have loved one of these gadgets when she was cleaning pounds and pounds of strawberries.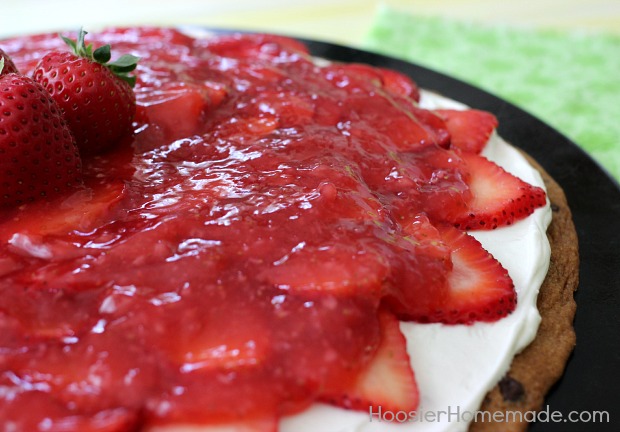 See how nice and even the Strawberries are sliced? We used our new Egg Slicer for that, yes the same one that you make Egg Salad with, and it worked like a dream!
I'm joined today by 14 other bloggers who are celebrating #TheIncredibleHull and Strawberry Huller. Visit them for more amazing Strawberry Recipes!
a farmgirl's dabbles
Cupcakes & Kale Chips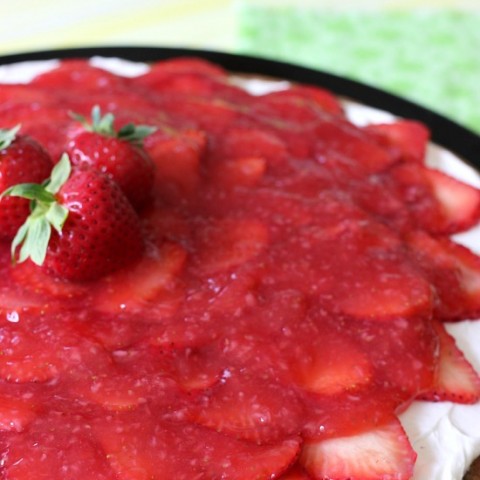 Chocolate Chip Strawberry Pizza
Chocolate Chip Cookie Crust topped with a layer of Cream Cheese mixture, fresh Strawberries and Strawberry Glaze. Recipe on HoosierHomemade.com
Ingredients
1 (18 oz) tube refrigerated Chocolate Chip Cookie Dough
1 (8 oz) package Cream Cheese, softened
1 (8 oz) tub frozen Whipped Topping, thawed
1 teaspoon vanilla extract
1 cup powdered sugar
2 (16 oz) packages Driscoll's Strawberries
Strawberry Glaze
1 cup fresh Strawberries, cleaned and mashed
1 cup sugar
3 tablespoons cornstarch
3/4 cup water
Few drops Red Food Coloring, optional
Instructions
Preheat oven to 350 degrees and lightly spray round baking stone or pizza pan with cooking spray
Evenly spread cookie dough and bake according to package directions
Let cool completely
Strawberry Glaze
Mash the Strawberries and set aside
In a saucepan, combine sugar and cornstarch
Stir in water and mashed berries
Bring to a boil, stirring constantly
Stir in food coloring if desired
Cook and stir 3 minutes until thick
Remove from heat and transfer to bowl, cool 10-15 minutes
Add mixture to mashed strawberries
If strawberries are not smooth, you can either put them through a sieve and smash them or use the food processor.
Filling for Pizza
In a large mixing bowl, combine all ingredients - cream cheese, whipped topping, powdered sugar and vanilla, and beat until smooth
Pizza
After the crust is cooled, spread with cream cheese mixture
Top with sliced Strawberries and then glaze