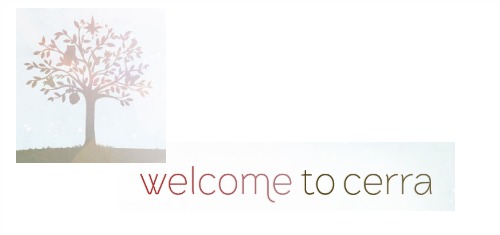 With a good portion of my life being eaten up by my blogging, and another big chunk of my time spent on chores and errands, the Cerra intention that I find myself  working on the most is staying grounded. At the end of each day I find myself exhausted, so it's always important to unwind with some television or a good book.
Relaxation is key to living a balanced life. After all, all work and no play makes Jill a dull girl. Whether it's going out with my girlfriends, or having a fun night at home with my family, I find any way I can to relieve stress.  I love my work, but it's also nice to take a break from it all.
Cerra also provides the tools to help me keep down to earth.  My favorite of them is the Mood Shift Kit. When my hands are cramped from too much typing, their lotions help alleviate the stress in my fingers. Their fragrance cards provide me with both a nice relaxing scent and a mantra to meditate to.  And Cerra's teas are good and good for me.
By using Cerra's intention of keeping grounded, it has helped me balance my life, and thus has made me a better person. Without the occasional times set out for relaxation and self  reflection, I'd lose myself in my work and stress, making me a boring and generally disagreeable person. So thanks Cerra, for reminding me to return to earth.
I'm curious to know: What has inspired you to grow as a person?
By replying you will be entered to win one of two prizes! First Prize: $150 to a Local Spa, plus $50 Gift Certificate to the Cerra Boutique. Second Prize: One of Five $100 Gift Certificate to the Cerra Boutique.
This is a sponsored conversation written by me on behalf of Cerra. The opinions and text are all mine. Official Contest Rules.