Print
Candy Corn Jello Shots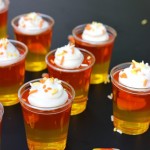 CANDY CORN JELLO SHOTS — Make these fun Jello Shots with or without alcohol! Both recipes available! Layer the colors to look like candy corn! It's a fun Fall treat!
Author:
Prep Time:

10 minutes

Total Time:

10 minutes

Yield:

10-12

Category:

Snack
Ingredients
1 small box lemon jello
1 small box orange jello
2 packets or 3 tablespoons Knox unflavored gelatin
2 cups boiling water
Cool Whip
Sprinkles for garnish, optional
Instructions
In a small bowl, combine lemon jello and 1 packet of unflavored gelatin, stir
Add 1 cup boiling water and stir 2 minutes or until dissolved
Add jello to shot glasses, fill about 1/2 way
Place in fridge for 20 minutes
Repeat with 1 cup boiling water, orange jello and unflavored gelatin
Fill shot glasses and place in fridge for 20 minutes
Up to 1 hour before serving, add Cool Whip to the top and sprinkles if you like
Adult version
Add 1 cup boiling water to 1 box of Jello and stir to dissolve.
Add 3/4 cup vodka and 1/4 cup cold water, stir to combine
Add to shot glasses and chill
Note – this is for a single flavor
Notes
You can easily double the recipe to serve more. Prep time does not include chilling time.
By continuing to use the site, you agree to the use of cookies. more information
The cookie settings on this website are set to "allow cookies" to give you the best browsing experience possible. If you continue to use this website without changing your cookie settings or you click "Accept" below then you are consenting to this.