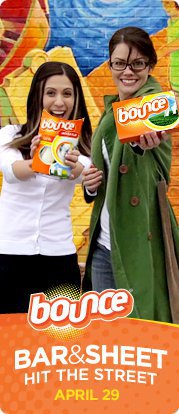 Bounce has a fun contest on their Facebook page where fans can post their most creative ideas for using the Bounce Dryer Sheets or Bar! Three ideas will be chosen each week and voters will then vote for the best one.  Weekly winners will have a chance to have their idea made into a video by the "Bounce Fanatics". 
They need your ideas for creative and hilarious things that their Bounce Fantatics can use the Bounce Dryer Bar and Dryer Sheets for outside of the laundry room.
Every Saturday through Monday, until May 27th, head over to the Bounce Facebook page and leave a comment on the wall to share your crazy ideas. The three best ideas will be picked, and Bounce Fans will be able to vote on which idea gets made into a video by the Bounce Fanatics.
On Tuesday through Thursday, while they wait for the winning video to be announced, created, and posted on the Bounce Facebook page, Fans can enter for the chance to win a special, limited-edition "B-Shirt."
On Friday, the winning idea and video will be posted, in an exciting moment of fame and glory for the winning fan!
Here is a sneak peak at some of the crazy things the Bounce Fanatics are doing…
Join Bounce on their Facebook page and share your ideas too!
Disclosure: This is a sponsored post. All the opinions are my own.