Print
Blueberry Muffins Recipe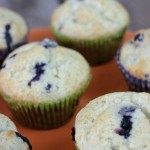 Special enough for Sunday brunch yet easy enough for a weekday breakfast. Recipe from HoosierHomemade.com
Prep Time:

5 minutes

Cook Time:

15 minutes

Total Time:

20 minutes

Yield:

8-10 reg size muffins
Ingredients
1 1/2 cup flour
3/4 cup sugar
1/2 teaspoon salt
2 teaspoons baking powder
1/3 cup oil
1 egg, beaten
1/3 cup milk
1 cup blueberries, fresh or frozen are fine
Instructions
Preheat oven to 400 degrees. Place liners in muffin tins, set aside
Whisk together dry ingredients
Pour oil into 1 cup measuring cup, beat egg and add to cup, fill with enough milk to measure 1 cup, beat until mixed well
Add to dry ingredients
Combine, just until all ingredients are incorporated, don't overmix
Place washed berries in a bowl
Add a pinch of flour
Coat berries with flour, I do this so the berries don't sink to the bottom of the muffin
Add to muffin mixture
Fold berries in gently
Fill liners about 2/3 full. Bake for about 15-20 minutes depending on the size. For the minis, I baked them about 10 minutes.
By continuing to use the site, you agree to the use of cookies. more information
The cookie settings on this website are set to "allow cookies" to give you the best browsing experience possible. If you continue to use this website without changing your cookie settings or you click "Accept" below then you are consenting to this.