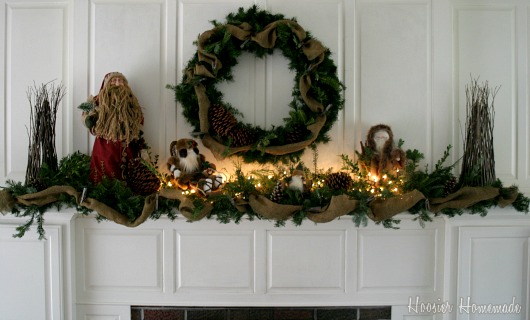 You all know that I LOVE to decorate my home for Christmas. In fact…I probably go a little overboard, but that's okay. I love it!! I also love bringing fresh greens into the house and using them on the Mantel and Buffet, but what I don't love…is our allergies, especially Nick.
Last year I added some fresh greenery to the Mantel and absolutely loved it, but not even a week after sharing it with my readers, I had to take the green outside. Nick was stuffy and had a runny nose.
When we were contacted by Bionaire a couple months ago about giving their Air Purifier a try, I jumped at the chance. I was so excited to give it a try and see if it might help our allergies, especially during the holidays.
And what do we think? The Bionaire is amazing!! Not a sniffle, cough or sneeze in our house…and yes, I did go ahead and bring in some fresh greenery to give it a try.
Enough about our pure air, let me give you a few facts…
According to EPA, indoor air may be up to 5 times more polluted than outdoor air.
Indoor air pollution can come from a variety of sources; tobacco smoke, mold, radon, pesticides and outdoor pollutants.
Appliances such as clothes dryers, stoves and heating and cooling systems that are old or have not been maintained may not have ventilation systems that function properly.
So what can we do?
Invest in an air purifier, Aer1 disposable filters trap and lock up to 99.97% of dust and other harmful airborne allergens before they settle in your home.
If you would like to purchase an Air Purifier, you can save up to $20 on your next aer1 ready air purifier.
Disclosure: We received a Bionaire Air Purifier for our review. As always, the opinions are always my own.