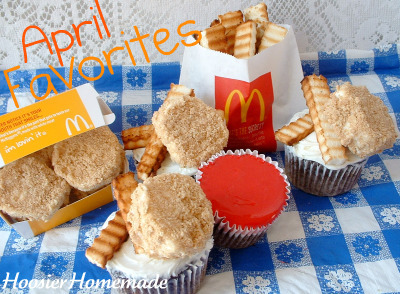 My Favorites ~ Your Favorites ~ Top Referrers
Wow! Where did April go? Seems like Spring hit and my life exploded. I love being busy, I usually work much better under pressure, but I'm ready for a day off 🙂
A very special Thank You to all my readers, friends and family who have made Hoosier Homemade a success!
First, my top three favorite posts…
My Favorite Cupcake
I loved making the Nuggets with a Side of Fries Cupcakes! I love when you create something that looks really difficult, but was actually very easy.
My Favorite Food Post
I really enjoyed cooking the Make-Ahead Meals, I really missed not having our dinners ready the next week. I'm planning on cooking again this week. It just makes my day so much easier.  
My Favorite Decorating Post
I'm so happy Spring is here. It's my favorite time of year. I did several posts on Spring decorating, but I love the Spring Flowers the most. 
Your Favorites…
Top Referrers…
A special Thank You to Today's Creative Blog, MomAdvice and Tatertots and Jello for including me on their blogs and featuring me. 
Please take a minute and visit some or all of these great supporters. They are all fabulous, and I really appreciate them giving me their support! 
Be sure to mark your calendars! On Thursday, we are having a Mother's Day Extravaganza! Alice.com, BlogFrog and 6 bloggers, including myself are hosting! There will be TONS of great prizes too! How does 3 months of FREE Housecleaning sound? Or $250 Alice.com Gift Card? Pretty cool, huh?