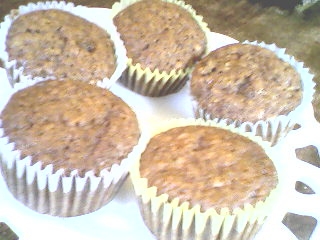 Since I have a huge zucchini harvest to use up, I've been trying a few different recipes, other than my usual Zucchini Bread and Chocolate Zucchini Cake.
When I saw these muffins over at Many Little Blessings, I knew we just had to try them.
Ingredients:
1 1/2 c. Flour
3/4 c. Sugar
1 t. Baking Soda
2 t. Cinnamon
1 t. Salt
1/2 c. Oil
1/4 c. Milk
1 Egg
1 t. Vanilla
1 c. Zucchini, shredded (I use my food processor)
1/4 c. Raisins
1/4 c. Walnuts, chopped
Directions:
Mix together flour, sugar, baking soda, cinnamon and salt. Add oil, milk, eggs and vanilla, combine well.  Add zucchini , raisins, and nuts.
Bake at 350 degrees for 25 minutes.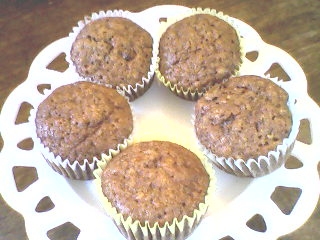 For more great blog carnivals, please visit:
~Mouthwatering Mondays hosted by A Southern Fairy Tale
~Homemaker Mondays hosted by 11th Heaven's Homemaking Haven