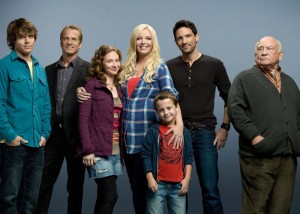 I have to admit, I'm not a big television watcher. I enjoy watching, but simply don't have the time. I usually catch a Food Network show or two after I get in bed, usually after 10 p.m.
When I was contacted recently and sent an invitation to preview an upcoming show…Working Class on CMT, I wasn't really sure what to think. But after reading what the show was about, I was intrigued to watch.
Working Class focuses on Carli Mitchell played by Melissa Peterman, a single mom from a rough and tumble background, trying to give her kids a better life by moving them to an upscale suburb. She quickly finds that making the transition to "the good life" is harder than she thought.
She's unwittingly befriended by her cranky neighbor, Hank played by Ed Asner, her only "career" prospect is a glorified deli job at the local grocery store, and the man she falls for not only already has a girlfriend – but he's also her boss, Rob played by Patrick Fabian. With her ladies-man brother, Nick played by Steve Kazee, to help her out (when he's not acting like one of the kids himself), Carli faces the challenges of parenting, dating, and making friends in her new community by doing more with less, staying true to herself, and approaching each day with a touch of working class.
Doug and I had a little "date night". We took our dinner into the office, downloaded the episode and watched it together.
Our take on Working Class…H-I-L-A-R-I-O-U-S!!
The show is down to earth, and all about everyday struggles that we all face. And Ed Azner has been a favorite of mine for years.
WORKING CLASS premieres January 28 at 8:00 p.m., ET/PT on CMT.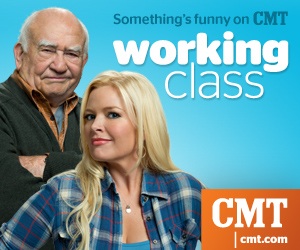 Disclaimer: I was compensated for this post by One-to-One Network. All of the opinions are my own.