Our home was built in 1926 and it's really drafty to say the least. Remember that little "kick in the pants" that I told you about during our latest bedroom makeover? Well, we received another little kick from DAP Products.
Sometimes Doug needs a little push to get some things crossed off his honey-do list. My Dad was a Painting Contractor for 40 years, and I remember my Mom always saying that she would have to hire a painter before my Dad would find the time to get the house painted.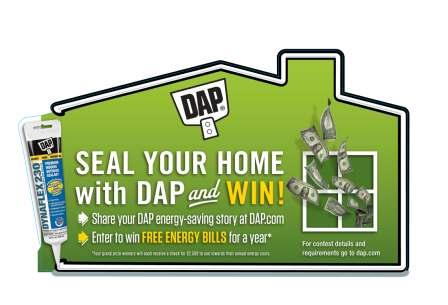 I am excited to be part of the DAP Seal Your Home Blogger Challenge. Here in northwest Indiana we have long, cold Winters usually with lots of snow. We had over 100 inches last year. I sure hope it's not like that this year!
Right now is a perfect time to start weatherizing your home. As the winter months are approaching, consumers can take simple steps to ensure their ready for the impact that seasonal changes can have on the home.
Here is a short list of some of the weatherization we need to get done…
windows
patio doors
basement walls
DAP Products Inc., the leading manufacturer of caulks and sealants, has a variety of innovative technologies that can be used to weatherize and protect the home.
Energy Bills got you down? How about a whole year of your energy bills paid?
DAP just launched their Seal Your Home and Win Contest and all you have to do is tell them how you saved energy in your home. Four lucky grand prize winners! Each winner will receive a check for $2,500 to use towards their annual energy costs.
Disclosure: DAP partnered with bloggers such as me to participate in its "Seal Your Home" Blogger Challenge.  As part of that program, I received compensation.  They did not tell me what to purchase or what to say about the products used for the "Seal Your Home" Blogger Challenge. DAP believe that consumers and bloggers are free to form their own opinions and share them in their own words. DAP's policies align with WOMMA Ethics Code, FTC guidelines and social media engagement recommendations.