Valentine's Day is one of my favorite holidays. Maybe it's the cute Valentine's we give and receive, the flowers, the treats or maybe just the chocolate, oh how I love chocolate.
I also have such a great time decorating. While I have decorated my mantle for Christmas, Winter and each of the seasons, I have never decorated it for Valentine's Day. After being inspired by lots of great fellow bloggers, I decided to join in the fun.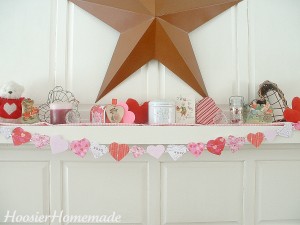 I'd like to share with you how to make the Valentine Heart Garland.
I started with scrapbooking paper and lots of different sizes of heart shaped cookie cutters.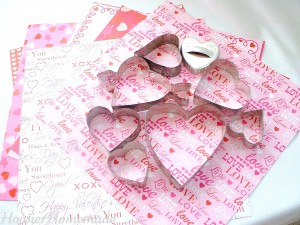 I traced the hearts on the back of the paper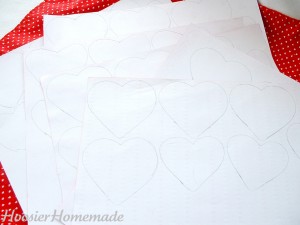 Then cut them out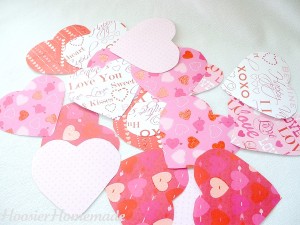 I chose some ribbon, the wider ribbon I bought at the Dollar Tree and the narrow ribbon I bought at Michael's for $1.00.
I laid the largest hearts out on the table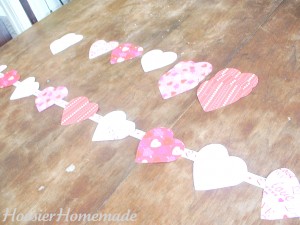 but decided to add in some of the smaller hearts, to give it a little different look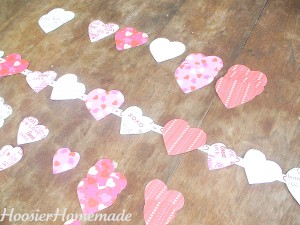 Then I sewed the hearts onto the ribbon with my sewing machine.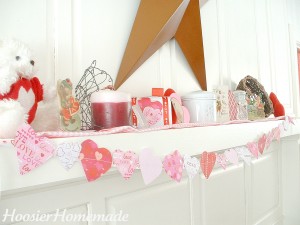 You can learn the step by step tips to decorating the mantle that I shared last week.
And if you aren't able to make your own garland or don't have the time, head on over and visit my Etsy shop.
Be sure to mark your calendar, I'm having a Valentine Linky Party on Monday, February 1st.  Bring your best ideas for Valentine Baking, Decorating, Dates or Fun for the Kids.   And there will be some awesome giveaway too

This post linked to:
Friday Linky hosted by The Inspired Room
~DIY Day hosted by A Soft Place to Land
~Make Your Monday hosted by The Twice Remembered Cottage