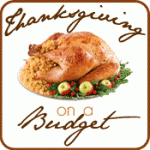 My fellow bloggers Amy, FishMama, Crystal and Erin are talking turkey this week. That is, Thanksgiving on a Budget.
Quite often we forget that using what nature has given us, is one of the most frugal ways to make our home beautiful. Whether it's decorating my Mantle, Dining Room table or even the little chair I have tucked in the corner, I love decorating with nature.
As I was thinking about setting my Thanksgiving table, I wanted to come up with some beautiful decorations and not spend any money. So, I headed outside and did some gathering.
I decided to use pears, some acorns, sweet gum balls, ivy and some Fall ribbon that I had in my stash.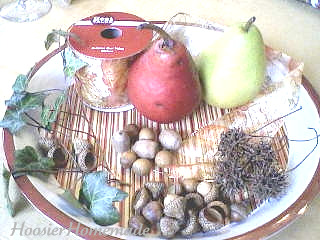 Then I set out to make some place cards, I combined the pictures a little for you, so that the post won't be too long.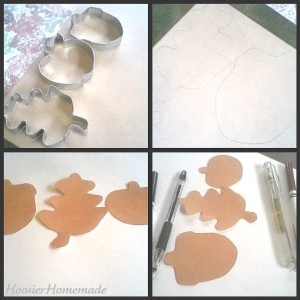 Gather some shapes to trace, cookie cutters are great
Trace onto scrapbook or construction paper
Cut the shapes out
Gather some writing tools, I found that the brown fine tip Crayola marker worked best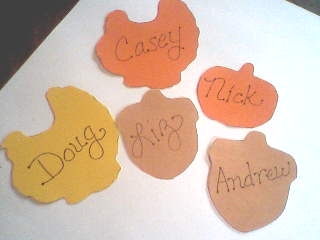 Then write your guest names on each shape.
I have used several different napkins to give you an idea of color and material, you could most certainly use paper napkins like the orange napkins, some fabric cut like the acorn napkin or a cloth napkin.
Here I used the cloth napkin and simply tied it loosely with a ribbon and tucked in the name card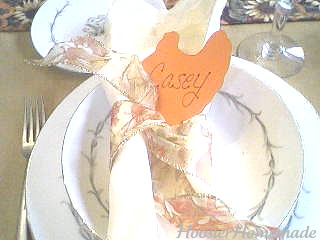 This one I used some acorn fabric that I had, some acorns and an acorn top to hold the name card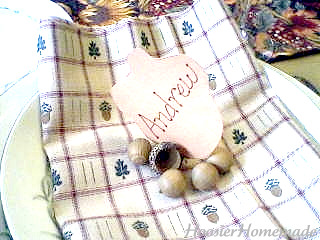 And here is a red pear, some ivy and the name card simply tied to the stem of the pear with embroidery floss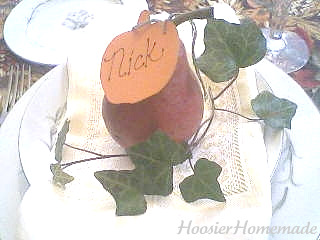 And a name card tied to the stem of a sweet gum ball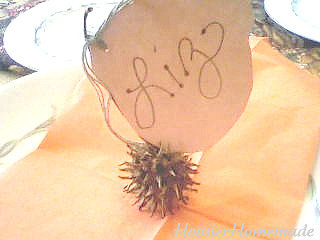 A simple green pear and a name card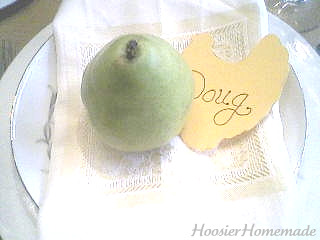 Since not everyone has access to gathering natural items, I've found a few ideas for you…
~Thanksgiving Printables from Parents.com
~Pilgrim Hat Place cards from About.com
~Turkey Place cards from About.com
~And for the "little people" table, Max & Ruby Printables
Update: I'm updating this post to include a few more links for Friday Favorites hosted at Daily Dwelling, be sure to head on over and check out her great list of favorites.
~Thanksgiving Garland made by Simply Modern Mom
~Give Thanks Garland made by The Charmed Home
~Napkin Rings made by The Graphics Fairy
This post linked to:
~DIY Day hosted by A Soft Place to Land
~Tackle It Tuesday hosted by 5 Minutes for Mom
~Thanksgiving on a Budget hosted by Money Saving Mom
~Frugal Friday hosted by Life As Mom
~Finer Things Fridays hosted by The Finer Things in Life