Happy Thanksgiving! Today I'm sharing some very easy Pilgrim Hats and Cornucopia Cupcakes with you.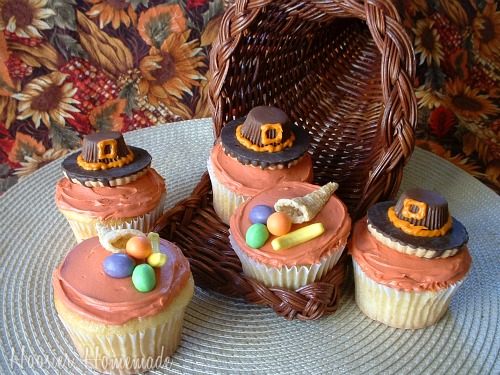 These are the supplies I used for the Pilgrim Hats…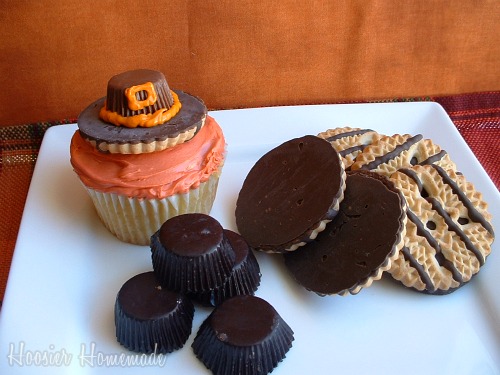 For the Pilgrim Hats, I used Fudge Striped Cookies, Mini Peanut Butter Cups and Buttercream frosting.
Frost cupcake with Buttercream frosting (I used Wilton Copper to color it)
Place cookie upside down on the counter
Upwrap Peanut Butter Cups, and place on cookie with a small amount of frosting
Pipe on the gold buckle and rim using a decorator bag fitted with a small round tip (I used copper and yellow Wilton coloring mixed, plain yellow would be fine too)
Place on top of frosted cupcake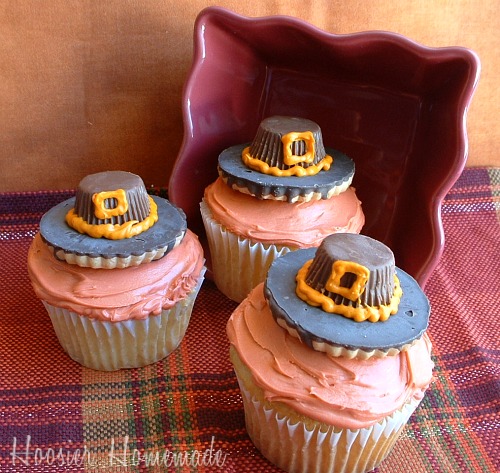 For the Cornucopia Cupcakes, I used Bugles and Runts candy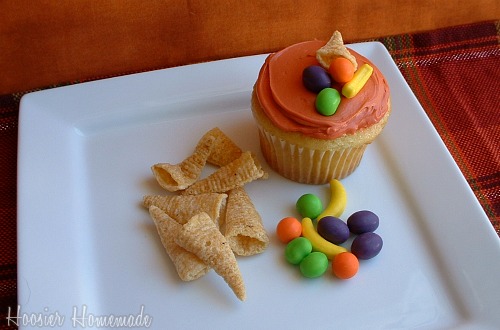 Frost cupcake with Buttercream Frosting (I used Wilton Copper to color it)
Place Bugle on top, toward the back of the cupcake, allowing room for candy (you want to choose the Bugles that are curled up a bit on the pointed end)
Place Runts "fruit" candy inside and in front of Bugle (I found Runts at Walgreens)
Thanksgiving Cupcakes are not your typical dessert to enjoy, but definitely kid friendly.
You could have the cupcakes frosted and place a cupcake at each child's place setting along with the candy, cookie and bugles to decorate and let them decorate their own.
Fun and Easy!
Update:
You may also like my newest Thanksgiving Cupcakes…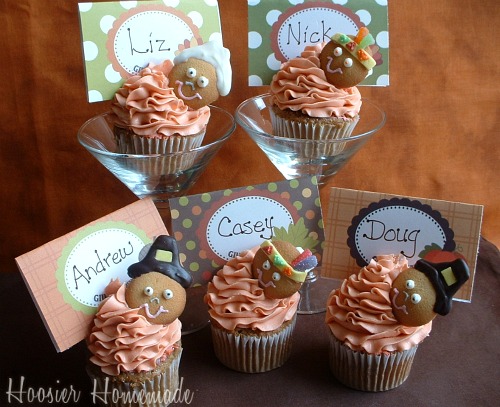 Additional Update for 2011: