Super Bowl! Do you host a party? Or maybe get together at a friend's house? Either way, you will probably need some food. Because, as we all know, it's not about the Football Game, it's about the food, right? Well, and the commercials! 🙂
I was so excited when I received a big box on my front porch from My Blog Spark! Football goodies what could be better? Like I mentioned earlier in the week, living in a house with all men, football is pretty standard around here, especially this weekend.
In my package, was a ceramic football serving platter, a table runner, plates and napkins and 2 cans of Old El Paso Green Chiles. I have never cooked with green chilies before, so I was really excited to give them a try. And let me tell you, I was pleasantly surprised.
First, I made Southwestern Dip, when I opened the can, they smelled really strong, so I was a little skeptical, because we don't like our food super spicy around here. But, after mixing it with the other ingredients, they weren't spicy at all, in fact, the dip will definately be a standard recipe for parties from now on.
Print
Southwestern Dip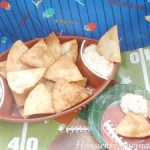 Ingredients
1 1/2 cup Sour Cream
1/2 cup Mayo or Salad Dressing
1 teaspoon Ground Cumin
1/2 teaspoon Chili Powder
1/4 teaspoon Garlic Salt
1/4 teaspoon Onion Powder (I didn't have this, so I added a bit of my Pampered Chef Southwest Seasoning)
1/4 teaspoon Paprika
1 cup Cheddar Cheese, shredded (I used Mexican)
1 can (4.5 oz) Old El Paso chopped green chiles, drained
Tortilla chips (I made Homemade, directions below)
Instructions
Mix all ingredients, except cheese, chiles and chips. Stir in cheese and chiles. Cover and refrigerate 2-4 hours to blend flavors. Serve with tortilla chips.
Directions for Tortilla Chips:
I use flour tortillas, cut them into wedges (6) and fry them in a little oil. They bubble up like the Tostadas, and they are quick, easy and really good.
I also made some Enchildas with the other can of Old El Paso Green Chiles. I have tried a few different recipes over the last couple months and not really came across one that we liked. So, I headed to my cookbooks, and figured for sure that Pioneer Woman would have an Enchilada recipe, and yep, I was right, and it's a keeper.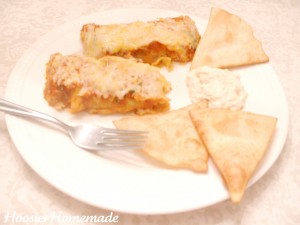 While reading through the ingredients, I was happy to see green chilies, another great recipe for me to try out these green chilies. The recipe also called for Enchilida Sauce, which I didn't have, but I did remember seeing my friend, Lynn, had the recipe on her blog.  So I jumped on over, grabbed that recipe, which by the way, it also a keeper, and I was all set to start our Enchiladas.
And since, we need to move on to the giveaway…I'll let you head on over to get the recipe from Pioneer Woman.
One lucky reader will win all of the items that I received, the football platter, the table runner, plates, napkins and the Old El Paso Green Chiles. I apoligize that you won't receive these before the Super Bowl Game, but I'm sure you will have plenty of opportunity to use them during the year and again next year for the Super Bowl.
Full Disclosure: The package I received was provided to me by Old El Paso through My Blog Spark. They will provide the winner of this giveaway the same package. The views and recipes were my own.
This post linked to:
~Slightly Indulgent Tuesday hosted by Simply Sugar & Gluten-Free
~Tempt My Tummy Tuesday hosted by Blessed with Grace
~Tuesdays at the Table hosted by All the Small Stuff
~Tasty Tuesday hosted by Balancing Beauty and Bedlam
Giveaway Rules:
Leave a comment with a link to your favorite Super Bowl or party recipe, or if you don't have a blog, just tell me what you like to cook for parties.
Follow me on Twitter, leave a comment with your Twitter ID
Tweet about the giveaway, using @HoosierHomemade in the tweet and include a link to the giveaway
Become a subscriber, 5 entries (new or old subscribers) (yes, my shameful plea for more subscribers 🙂 )
The Giveaway will be open until Tuesday, February 9th at 10 p.m., the winner will be chosen and notified by email.