Now that you all think I've gone off the decorating deep end, let me share my St. Patrick's Day Mantle with you.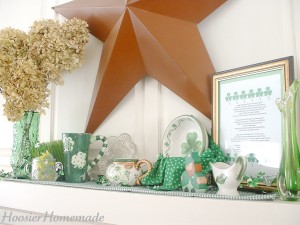 I know, I know…who is that crazy lady that's decorating her mantle again? After having so much fun and such a great response for my Valentine Mantle, I just had to decorate it for St. Patrick's Day. While I usually decorate for every season and every holiday, I don't usually decorate too much for St. Patrick's Day. I guess this has turned into a new tradition, coming up with a different mantle to share with you for every holiday.
Once again, I have broken down each step, to give you a play by play, easy to decorate, mantle.
Begin by gathering your supplies and decorations, since I don't have too many actual St. Patrick's Day decorations, I really needed to think outside the box on this one
I added some green gingham fabric
And a wire with shamrocks on it
I typed the Irish Blessing out and added shamrocks on the top and bottom, backed it with some green scrapbook paper and framed it
On the opposite end, because it creates good balance, I added a green vase with dried green hydrangeas (this was the first of my outside the box thinking)
This is how it looks when you place a large item at each end
I added some plastic grass (I know, weird, but it added color and texture)
I started collecting holiday dishes a few years back, so I do have a few St. Patrick's Day pieces, the crystal piece is shaped like a shamrock
Then I filled a small crystal vase with green Jolly Ranchers (thinking outside the box again, I just searched the house for anything green)
I added my other dishes, the bowl gave me a little problem, as it wouldn't stay up. I started with a small crystal plate (not in the picture) and had the glue gun heating up (yep, old blue to the rescue again ) Then I sat down to the computer and next to my monitor was this little candy dish, empty of course, it worked perfect to hold the bowl and I didn't even have to use the glue gun.
Then I added my little wooden leprechaun
And decided the candy dish/bowl duo needed a little color, so I added a piece of fabric with shamrocks on it
Then while folding laundry in my bedroom (inspiration comes from many places for me) I happen to remember some jewelry that I had. So I added the bracelet to one end
And a shamrock that used to be a necklace (funny how we hold onto things for such a long time)
So, there you have it…another fun Mantle. And the best part, I spent $-0- on it.
Do you decorate for St. Patrick's Day? How about some green food for dinner? You guessed it, I will be sharing our St. Patrick's Day Dinner in a couple weeks.
Sorry for the pictures being all wonky, they are giving me a bit of a challenge right now.
This post linked to:
~St. Patrick's Day Party hosted by Created By Diane
~Made by You Mondays hosted by Skip To My Lou
~St. Patrick's Day Party hosted by Somewhat Simple
~Frugal Friday hosted by Life As Mom
~Frugalicious Friday hosted by Finding Fabulous
~Get Your Craft on Thursday hosted by Life as Lori