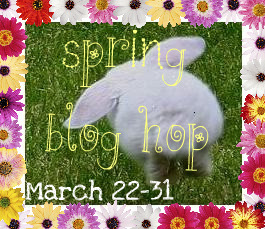 We are super excited to announce our upcoming Spring Blog Hop!
Get your oven fired up, and your pantry stocked with baking supplies! Cuz' we're gonna be bakin'!

Along with 6 of the most amazing bakers in blogsphere, we will bring you enough Easter and Spring treats to fill your basket! Calories removed, of course!

We will start on Monday March 22 and finish up on Wednesday March 31. That's 8 days of sugar bliss! We will be adding a linky everyday so that you can share your creative goodies with everyone! And…there will be giveaways too! Everyday! Can you say "baking supplies?" (hint, hint) Be sure to follow along on Twitter, we will use #hashtag, #springbloghop, the Twitter handles are listed for each hostess with their blog introduction.
Starting the party off on Monday, the 22nd. will be Diane over at Created by Diane she says… "Created by Diane is where you will find me up to my elbows in flour and sugar as I often bake cookies, cupcakes and other yummy treats. I enjoy cooking just as much, but usually eat it before I can get a photograph taken! I love to share recipes and ideas stop on by and lets talk food." Follow Diane on Twitter @createdbydiane
On Tuesday, yours truly, Liz at Hoosier Homemade will share one of her cupcake creations. Hoosier Homemade shares her experience with tips on Making Your House a Home, including more than 50 cupcake creations, lots of decorating tutorials and Budget Friendly Meals. Follow Liz on Twitter @HoosierHomemade
Up next on Wednesday, is Shelley from How Does She? She says…"HowDoesShe is trying to find the answer to just that,…How Does She? How Does She Craft, Love her Family, Celebrate the Seasons, Cook and Bake? Stop by to be inspired and to share your creativity. We can't wait to see your Spring Baking Ideas!" Follow Shelley on Twitter @HowDoesShe
On Thursday, Janet over at From Captain's Daughter to Army Mom is our hostess, she says…"I'm just a proud-but-terrified, Army Ranger-mom and full-time working wife who keeps busy by experimenting in the kitchen, shopping, traveling and sharing the things I'm passionate about in the moment. Just like marrying a man I only knew 2 days when I was 19-years old, I'm happy to say that most of the things I try work out better than I ever imagined they could! When we outgrew our home in Monterey, California, we decided to throw darts at the map and ended up in North Carolina. We miss our family and friends very much but cannot get enough of the beautiful changing seasons. In 2009 both of our sons left home, so for the first time in twenty-two years, it's just the two of us again!"Follow Janet on Twitter @jcbridge
And finishing our first week up is Cindy over at Skip To My Lou, she says…"From hosting a shrimp boil, celebrating holidays, making homemade scratch art paper, sewing gifts and throwing parties to cooking delicious food, you will find it all at Skip To My Lou. The site is full of free patterns, downloads and plenty of inspiration.
Craft, Create, Celebrate… Skip To My Lou is a place to fulfill the passion for sharing the best in life." Follow Cindy on Twitter @cindyhopper
Starting the new week off is Amanda from i am baker, she will share her favorite ever cookie recipe and fun, new, easy, show stopping way to present them that will make you the hit of any gathering!  Follow Amanda on Twitter @manda2177
On Tuesday, you have me, Hoosier Homemade, again.
And finishing our Spring Blog Hop is Shelly from Cookies and Cups, she says…"My blog is designated to all things sweet.  My favorites are cookies
and cupcakes but I do not discriminate when it comes to desserts,
however, the cuter the better!"
We have a some yummy treats to share, and fun giveaways too!
Mark your calendars! You won't want to miss the fun!