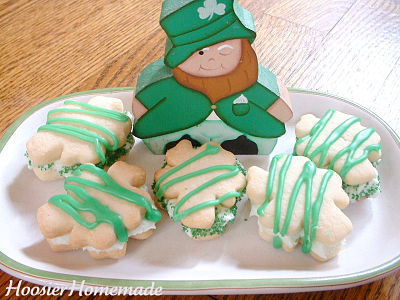 St. Patrick's Day is next Wednesday and I'm getting ready. I baked some  Irish Soda Bread, did you know that it wasn't originated by the Irish, and these yummy little Shamrock Almond Cookies just melt in your mouth.
A couple months ago, when I received my wall calendar from Pillsbury, and was flipping through the months, I spotted a recipe for Almond Sandwich Cookies with pink filling. Well, I got busy sharing other treats and food for Valentine's Day and didn't get them baked, so I knew exactly what I wanted to bake for St. Patrick's Day, but with green filling, of course.
The recipe called for refrigerated sugar cookie dough, which I didn't want to use, so I set out to find an Almond Cookie dough recipe. The very first place I headed was my friend, Bridget over at Bake at 350 (if you haven't visited Bridget, run fast…she is amazing!), and I was excited to find that she uses a Vanilla Almond Sugar Cookie for many of her cut out cookies. I followed her recipe exactly…
Shamrock Almond Cookies
Shamrock Almond Cookies from HoosierHomemade.com are perfect for your St. Patrick's Day celebrations!
Ingredients
Cookies

3 cups Flour, all-purpose
2 teaspoons Baking Powder
1 cup Sugar
2 sticks Butter
1 Egg
1/2 teaspoon Vanilla Extract
1/2 teaspoon Almond Extract
4 cups Powdered Sugar (I ended up using about 3 cups and the filling was pretty stiff)
1/2 cup (1 stick) Butter, softened
4 teaspoons Milk
1/2 teaspoon Almond Extract
1 drop Green Food Color
Instructions
Cookies

Combine the flour and baking powder, set aside.
Cream the sugar and butter.
Add egg and extracts, mix well.
Gradually add the flour mixture and beat until well combined.
Roll out dough and cut out shapes.
Bake at 350 degrees for about 10 minutes, if you like a soft sugar cookie, bake a little shorter, if you like a crisp cookie, bake a little longer.

Filling

Beat butter until fluffy, gradually add a small amount of powdered sugar at a time, alternating with milk and almond extract.
I mixed it like I do my Buttercream Frosting.
http://hoosierhomemade.com/shamrock-almond-cookies/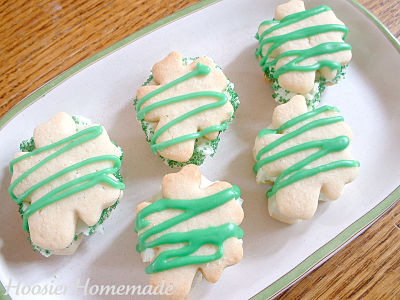 I wanted to add a little something to the top and had seen the amazing dessert that Amanda at I Am Baker made, but wanted to stay with the green theme. So, I used some of the filling, added a bit more green food color and a dab more of milk, heated it in the microwave. After mixing well, I filled my Wilton Plastic bottle to be able to drizzle with ease. I also sprinkled on some green sugar on the edge.
I couldn't stop with just the little sandwich cookies, I cut out some larger ones too. I was excited when my son found 7 different shamrock cookie cutters in my basket. I also used them for my St. Patrick's Garland.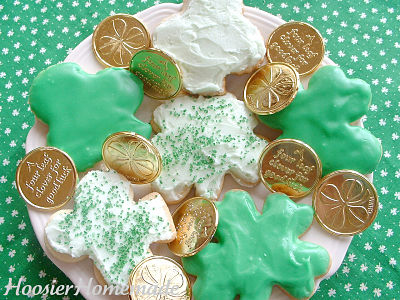 I frosted some with the filling and some with the darker green filling, using the same method I use on Sugar Cookies with Almond Bark.
Are you baking for St. Patrick's Day? Or have a special meal planned? I'd love to hear about it. 🙂