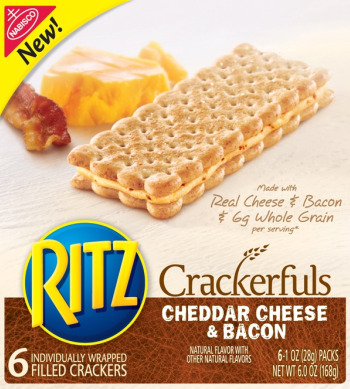 I'm a Big fan of Ritz crackers. I love their flaky, buttery flavor. I've even made them into Mint Thins.
So, when One2One Network who is a member of the Word of Mouth Marketing Association and fully support FTC guidelines regarding disclosure, asked me to review the new Ritz Crackerfuls, I jumped at the chance.
I have to confess, I'm hungry pretty much all the time. I'm a HUGE snacker and usually don't snack on healthy food. I typically have some cookies or even some Jelly Beans that are sitting on my desk.
The Ritz Crackerfuls couldn't have arrived at a better time. Last week, on Thursday, during the Dads Rock Giveaway Bash, I spent 17 hours on my computer. Yup, you read that right! 17 hours!! Without a lot of time to grab anything healthy, much less have time to cook.
I immediately opened one of the packages and tried the Classic Cheddar, they come in 4 different varieties…Garlic Herb, Four Cheese, Classic Cheddar and the newest Cheddar Cheese & Bacon. I also received a box of the Cheddar Cheese & Bacon to review, and my post is eligible for a gift card via random drawing by One2One Network.
I liked the flavor very much, and they are packaged in a sleeve that protects them from crumbling. They are conveniently individually wrapped, which was great to throw in my bag for Baseball Games. I didn't like that there were not very many in the box. Which may be a good thing, because I probably would have eaten them all.
My youngest son, has this to say about the Cheddar Cheese & Bacon, "they have a lot more flavor than the Cheddar Cheese ones, I liked them both."
Would you like a coupon so that you can try the Ritz Crackerfuls for yourself?
Head on over to the Ritz Facebook page, fan them, and grab the coupon for  $1 Off Cheddar Cheese & Bacon Crackerfuls!