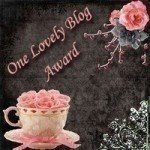 I'm so excited! I have been nominated by not one but two blogs! I'm very honored and humbled.
Family Makes Cents brings you all the awesome deals and tips on frugal living.
Eat Your Veggies shares family stories, recipes, photos and lots more.
After posting this, I have been nominated by another blogger. I'm so honored that you all enjoy reading my blog. Thanks,  A Little Fun With Me and Lu for nominating me too.
Here I am again editing this post. I've been nominated by yet another blog! I can hardly believe it! I'm very humbled that you all like my blog so well. Thanks to Annies Home for also nominating me.
Thank you so much girls! The One Lovely Blog Award is all about making new friends. So, I am passing on this award to the following 15 new bloggy friends. They, in turn, must give it to 15 bloggers, and so on, and so forth. In no special order, of course:
~Peanut Butter and Smelly's Dad
~11th Heaven's Homemaking Haven