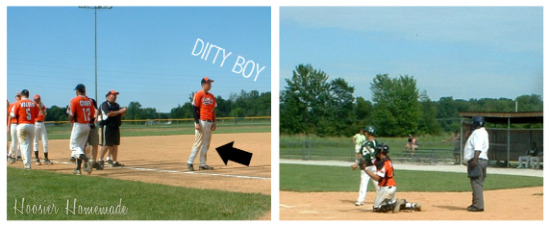 Why is it that Baseball Coaches ALWAYS chose white uniform pants? I mean…really? Do they do the laundry? I think…NOT! Moms (for the most part) do the laundry, and let me tell you, I have A DIRTY PLAYER!
Nick, our 16 year old, is the catcher on the High School team and also plays Summer ball, regular and travel. Most years, he has at least 75 games. That's A LOT of laundry soap! Not to mention Football and Basketball games…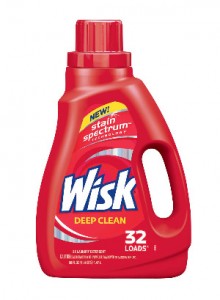 When I was growing up, unlike most Moms that were Tide Moms, my Mom used Wisk. I don't ever remember getting really dirty, but of course, I was a girl, I played house with my dolls and I was in gymnastics, I really didn't "do" anything to get dirty. I suppose it was a good thing. I'm sure back then laundry soap was good, but I think nowadays kids are REALLY active, like our son, playing 75+ Baseball games a season.
Now, even though I have LOTS of laundry with Nick and his sports, I also have 2 other boys AND a husband that is a Landscaper. So, let me tell you…WE HAVE DIRT! And, I'm pretty busy…most days, I'd rather be baking cupcakes instead of doing laundry, so it can really pile up.
Wisk is introducing a powerful new stain fighting formula and a new way to talk about stains in a reinvention that is likely to be as iconic as the brand's legendary "ring around the collar" campaign.
Wisk® was the first liquid laundry soap to hit the market in 1956, do you remember these commercials?
With the New Wisk® with Stain Spectrum™ Technology, I won't have to worry about treating and pre-soaking the dirty clothes any more. Wisk is bringing science to stain fighting with an upgraded formula featuring Stain Spectrum™ Technology.  Wisk's enzymes and cleaning agents target the full range of stains on a molecular level for a powerful clean.
New Wisk® with Stain Spectrum™ Technology is engineered to target the major stain groups
New stain vocabulary:
 
There are hundreds of different stains but most stains fall into three major groups:
 * Carbohydrates such as milk chocolate
 * Proteins such as grass
 * Oils such as peanut butter
The other groups of stains include:
 * Bio such as blood
 * Bleachable such as coffee
 * Particulate such as dirt
 * Synthetic such as ink
Wisk is available in August at major retailers nationwide, such as Walmart, Target and Kroger
 * Suggested Retail Price:  $5.99 for 50 fl oz. bottles that cleans 32 loads
You can learn more about the New Wisk® with Stain Spectrum™ Technology by visiting Wisk, where you can also download a coupon. Or follow them on Facebook for all the latest info!
Disclosure: This is a sponsored post and I received information regarding this product from One2One Network and Wisk. I will be compensated for this post, but all of my written opinions, ideas and experiences  are my own.